Hot Picks

- X 2019
Accidental Exorcist


USA 2016
produced by
Warren Croyle, Sheri Beth Dusek for Rotomation Pictures, Sector 5 Films
directed by Daniel E. Falicki
starring Daniel E. Falicki, Faye Sills, Sherryl Despres, David Higbee, Michael McCallum, Joel Potrykus, Kara Joy Reed, James Harris, Julianne Gouwens, Lajanae Smith, Michael Cunningham, Mary C. Brown, Heath Scarbrough, Shelley Irwin, Patrick Hendren, Mike Roberts, Chris Kotcher, Jeffrey Goodrich, Sheri Beth Dusek, Andrew Owen, Thomas Ferratt, Chalrey Vanportfliet, Chris Deyoung, Mitch Smigiel, Anne Cope, Marly Green, Christopher Randall, Mariea Louisa Macavei, Scott Baisden, Jason Roth, Andrew Schafer, Vivian C. Schafer, Mary Howing, Nikki Kelly
written by Warren Croyle, Daniel E. Falicki, music by Tom Ashton, special effects makeup by Anne Cope, creatures, props and set design by Rotomation Works Dept. 4

review by
Mike Haberfelner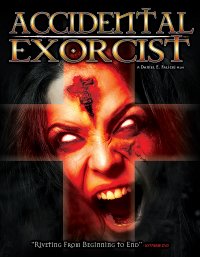 Richard Vanuk (Daneil E. Falicki) is a hopeless alcoholic, there are no two ways about it, and that's probably part of the reason why he has never made something out of himself - after all, everybody once considered him a damn good writer, but he had never seriously picked it up, and now he's living in a shithole apartment with no real prospect for the future, and is hardly able to scratch up the rent even for this place. But there's one thing he actually is good at, he's a first rate exorcist. Thing is he has never aspired to be one, let alone studied the subject, for some reason he's just good at establishing mental links with demons and driving them out of persons they possess ... even if with every exorcism he seems to absorb part of them - which in turn drives him to drink all the heavier. But at least it's a job, and Richard even has an employer who gets him exorcisms at a semi-regular basis and sees that he's paid by the exorcism - not much mind you.
But being an exorcist is not all the glamour it might seem to be, Richard regularly gets puked on, demons try to hurt or kill him, and after alcohol binges following the exorcisms he wakes up at the weirdest places.
At one point, Richard even tries to leave his demon-hunting existence behind to try his luck in the corporate world, but he quits after half a day already, prefering to get puked on but making a difference to slaving away from 9 to 5. But that said, Richard has no idea to what extent the demon world already has taken hold on him ...
Now truth to be told, Accidental Exorcist is a bit on the episodic side and could have done with a shorter running time - but that said, as episodic as the film might be, each "episode" does have its own imagery and its own rather original punchline, so one certainly doesn't get bored. And the rather shaky camerawork (which I'm usually not much of a fan of) really helps to get into the rather muddled mind of the protagonist - whom director Falicki embodies almost eerily well as a total human wreck!
Definitely a film of interest, and very entertaining on top of that!