Hot Picks

All Through the House


USA 2015
produced by
Stephen J. Readmond, Christopher Stanley for the Readmond Company
directed by Todd Nunes
starring Ashley Mary Nunes, Melynda Kiring, Natalie Montera, Danica Riner, Lito Velasco, Jason Ray Schumacher, Jessica Cameron, Cathy Garrett, Johanna Rae, Jennifer Wenger, Kelsey Carlstedt, Matt Poeschl, Lyndon Laveaux, Tamra Garrett, Justice Lee, John Nunes, Noah Boylen, Sky Boylen, Sarah Miller, Milijana Riner
written by Todd Nunes, music by Irving Victoria, special effects by Tommy Pietch, Josh McCarron

review by
Mike Haberfelner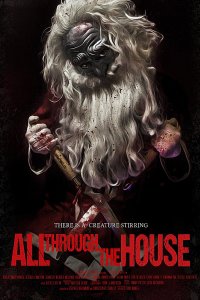 It's Christmas Eve, and for some weird reason, Rachel (Ashley Mary Nunes) has promised her grandma's neighbour Mrs. Garrett (Melynda Kiring) to help her decorate the house - even though it aleady feels decorated to the hilt. Now Rachel and Mrs. Garrett actually do share a tragic fate, as Rachel's mum disappeared about the same time as Mrs. Garrett's daughter Jamie. Rachel has been a bit off ever since, but Mrs. Garrett seems to have really lost it, having populated her house with mannequins, having developed all sorts of creepy attitudes, and having become pretty much a man-hating recluse - but weirdly enough, on Christmas Eve, she decides to go out, leaving Rachel and her friends Sarah (Danica Riner) and Gia (Natalie Montera) behind to decorate the house (and get drunk on her eggnog).
Thing is, a gardenshears-wielding maniac (Lito Velasco) in a Santa-mask who's really into cutting off dicks is roaming the neighbourhood, and even if Rachel and the girls are a little dickless by nature, he goes after them as well. The thing is though, Rachel might be much closer involved with what's going on than she might have ever guessed ...
Genre fave Jessica Cameron has the honour of being the first person killed in this one ...
Of course, All Through the House is a slasher movie, and it embraces the genre with pride, follows the formula to the T ... but that's not to say the film's just your typical genre fodder - in fact, if you can see past the formulaic nature of the story and focus on the off-beat imagery of the main location or on the inventiveness and gruesomeness of the killings, you'll be totally able to enjoy this, plus the film's many Psycho-references will probably put a smile on the faces of quite a few horror fans. Now add to this a bunch of fun central characters brought to life by cool performances, and - well heck, it's not Citizen Kane, I give you that, but it's rather entertaining nevertheless.