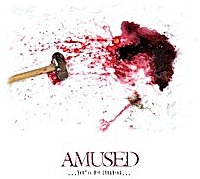 Available on DVD !
To buy, click on link(s) below and help keep this site afloat
Always make sure of DVD-compatibility !!!

Snow-covered rural USA: Martha (Elise Rovinsky) arrives home from a doing her routine shopping, only to find her daughter on the kitchen floor - dead. And her assailant (Ryan G.Metzger), an obvious lunatic, is still leaning over her, scalping her, then using the scalp as some sort of hat. Martha drops everything - unfortunately including her cellphone and carkeys -, and that attracts the attention of the madman, who now comes after her, a mad grin in his face.
Making her getaway through the seemingly endless snowcovered countryside, Martha finally manages to hide from the lunatic in a shack in the middle of nowhere, and once she's sure she has shaken him, she makes her way to her neighbour's house ... to find her lieing on the floor, dead, and next to her the very same madman that has slain and scalped her daughter, soaking up the neighbour's blood with a banana and eating the banana. Weirdly enough, the madman is wearing different clothes and seems to have washed the blood off his face since the last encounter ...
Again, Martha can't help but draw his attention to her, but when he comes after her this time, she hides in the workshed and arms herself with various everyday tools.
Click here to open the Spoiler Pop-up!
If one had to sum up this film in one word, it would probably be "macabre". This is a 9-minute movie that doesn't waste any time on explanations (and actually doesn't feature any dialogue) but tries to find just the right balance between suspense filmmaking and gruesome details in a skeletal horror story that features quite a few unexpected plottwists along the way ... and the film actually succeeds, too.
This is actually a really nice and effective genre short - recommended, too!
By the way, part of Hillbilly Horror Show - Episode 1.