Hot Picks

Un Ange

Angel


Belgium / Netherlands / Senegal 2018
produced by
Eurydice Gysel, Koen Mortier for Czar Film, Anonymes Films, Graniet Film
directed by Koen Mortier
starring Vincent Rottiers, Fatou N'Diaye, Paul Bartel (II), Aïcha Cissé, Yankhouba Diop, Kilifeu, Mouhamadou Diarra, Bernadette Soatou, Richard Gueye, Makhtar Diop, Fou Malade, Katrien Goossens, Rokhaya Niang, Eric Berlito, Ba Mentor, Matar Diouf, Luc Assez, Ronnie Kreeft, Abdoul Aziz Seye, Ndiaga Mbow, Alexander Blumenthal
screenplay by Koen Mortier, based on the novel Monoloog van Iemand die het Gewoon werd tegen Zichzelf te Praten by Dimitri Verhulst, music by Soulsavers

review by
Mike Haberfelner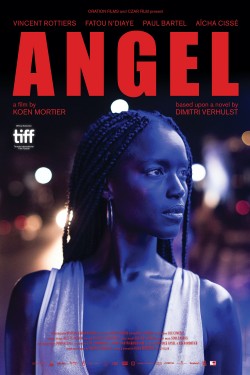 Once upon a time, Thierry (Vincent Rottiers) was a world championship cyclist, with a shot at winning the Tour de France even - but then a terrible accident stopped him cold. He has since fully recovered, and is training for another shot at greatness, but things are taking a toll at him, so one day he and his brother Serge (Paul Bartel) just take off to Senegal for some relaxation, and also for doing some drugs away from all the drug tests the cycling commission demands. And then, one evening at a bar, Thierry spots Fae (Fatou N'Diaye), and he instantly falls in love - and he's not one to fall in love easily. Before he talks to her, he's informed she's a prostitute, but that doesn't change his feelings for her one bit.
Now Fae doesn't like being called a prostitute, as she only does what she has to do to make ends meet and doesn't want to be labelled for it. So she enjoys Thierry treating her as not just a lady of the night but an actual lover, and it's not long before she develops feelings for him as well. He promises to take her with him home to Belgium and she believes him, too. Things only start to get out of hand when Thierry wants to take Fae to his hotel room, and the receptionist (Kilifeu), recognizing her for what she is, won't let her in. Thierry disappears to his room for a spell, and when he returns he isn't the same anymore, he starts showing signs of paranoia and jealousy, and even though she finds them a hotel where they can spend the night together, he ultimately sends her away - and from there on, things can only go way worse ...
A very compelling drama, one that is as effective as it is because it doesn't have (or seem to have) an agenda other than to tell an interesting story, and one that doesn't let any chlichés (like Prince Charming and the hooker with a heart of gold) stand in the way of what actually feels like a very real and grounded narrative, an aspect that's also helped by its deliberately slow pace and its lack of soulless spectacle. In terms of storytelling, the film's very character-driven, and two relatable if fallible main characters really pull one into the story - and of course, two strong central performances really help make this one a really powerful film.
If this has gotten you interested, Angel will make its US debut on June 25th 2021 via Laemmle from Oration.