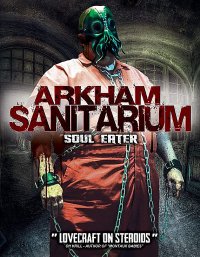 Arkham Sanitarium: The infamous site of the Miskatonic Massacre decades ago, and the place has been closed ever since and is said to be haunted. But now actor/wannabe paranormal investigator Mark (Shannon Brown) has broken into the premises to shoot a documentary all by himself - not too much of a challenge with today's technology ... and that's all to the dismay of Jerry (Marc Edwards), a serious scientist trying to debunk paranormal phenomena, whose equipment Mark has pretty much stolen to make his documentary. Furthermore, Mark has had sex with Jerry's wife Linda (Rinska Carrasco), which makes the whole thing an alpha dog situation as well - and thus, Jerry just had to break into Arkham Sanitarium as well, with Linda, who's also a psychic, in tow. Of course, Jerry doesn't believe in any of the haunted house-stories, and when Linda lets of warning after warning, he thinks she's just delusional, or even still has feelings for Mark ... and then Jerry's the first to be possessed, and it's actually up to Mark to save her from Jerry's clutches. But Mark is anything but a good knight in shining armour, he just wants to make her one of the protagonists of his documentary he can't stop thinking about. So despite all the opportunities our protagonists (including an unpossessed-again Jerry) are given, they just can't help themselves being dragged deeper and deeper to the core of the Sanitarium's evil, which includes a guy in a Cthulhu mask, who might be much closer to the ancient God than his cheap mask might suggest, a face-humping octopus who's orally raping Linda and the like. Oh, and the place is also haunted by the ghosts of those who have died in the massacre - but whose side are they on, exactly?
One of those precious few found footage movies that have come out in recent years that actually adds something new to the genre: Very dark and very twisted humour (including healthy doses of sarcasm). That's not to say that Arkham Sanitarium: Soul Eater isn't properly scary, at times fittingly grotesque in all the right places, but the whole situation - the serious scientist taken by jealousy and the egotistical actor and wannabe documentarian fighting over a woman - is just lined with the right kind of irony to make a film like this properly entertaining, and much more light-footed than most other found footage movies.
Really enjoyable indeed!