Hot Picks

- We 2018
- H4 2012
Art of Obsession


Canada 2017
produced by
Chris Cull, Eva Mancini, Bruno Marino, Mark E. Andrews (executive) for Blackguardism Creations, Art of Obsession Productions, High Star Entertainment
directed by Ryan M. Andrews
starring Ry Barrett, Winny Clarke, Raven Cousens, Jessica Vano, Brian McDonald, Timothy Paul McCarthy, Margaret Jeronimo, Keegan Chambers, Megan Liedo, Richard Crouse, Jodie Slatya, Chris Cull
written by Ryan M. Andrews, music by Janal Bechthold, cinematography by Michael Jari Davidson

review by
Mike Haberfelner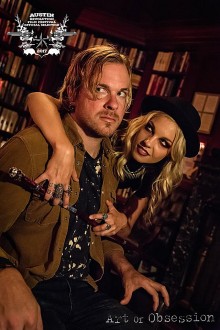 Kennedy (Ry Barrett), a troubled writer with suicidal tendencies - but the friendship to his neighbour Patricia (Winny Clarke) keeps him sort of sane. Thing is, Patricia is married to much older Doug (Brian McDonald), who keeps her as a trophy wife and treats her like shit. On occasions, Kennedy tries to step in, but as long as their fights don't go beyond verbal, there's little he can do ... and then one day Kennedy knocks Patricia unconscious and chains her up in his attic, quite simply because ... he's obsessed with her, considers her his muse, whether she likes it or not - and as she doesn't like it very much, he keeps her under sedation, mostly. But ever since Patricia has "moved in", Kennedy has been writing better and more than ever!
Life could be so beautiful right now, but then his teenaged niece Jade (Raven Cousens) pretty much forces him to let her move in with him, there's his former drug dealer and girlfriend Melanie (Jessica Vano) who's not totally good about letting go of him (or rather his money), and a detective (Timothy Paul McCarthy) investigating the disappearance of Patricia starts to ask a few too many questions. So it's only a matter of time until things come to a head ...
Art of Obsession sure is a twisted little thriller, basically for the fact that it forces the audience to at least to an extent identify with its lead character Kennedy, despite the fact that he's a nutjob and his actions have no moral justification - but the film doesn't judge and also portrays him as a victim of his own trauma and as a man who mostly actually does want to do the right thing. But that all of this works is thanks to a relatable performance by Ry Barrett leading a strong ensemble cast, and a directorial effort that knows how to create tension, when to build up suspense, but that's at the same time subtle enough to let the story breathe on its own.
In all, wicked fun for sure!