Hot Picks

Asylum of Darkness


USA 2017
produced by
Lawreen Yakkel for SOD Productions
directed by Jay Woelfel
starring Nick Baldasare, Amanda Howell, Richard Hatch, Frank Jones jr, Tiffany Shepis, John Hawk, Tim Thomerson, Patricia McBride, Robert Lacy, Matt Proctor, Scott Summitt, Liz Wheeler, Cash Kimmerle, Cole Geschwender, Tanya Hutchins, Joe Stepp, Josh Kalani, John Kuhn
written and music by Jay Woelfel, special makeup effects by Gerner & Spears FX

review by
Mike Haberfelner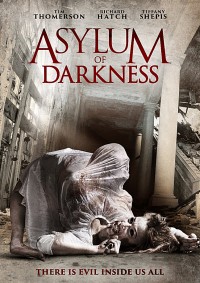 Dwight (Nick Baldasare) is an inmate of an insane asylum, a place he knows he doesn't belong because he knows he's as sane as you and me. Sure, he has little recollection of his time before he was committed, he thinks Dr Shaker (Richard Hatch), who's treating his face, has a bunt away or rotted away face, he thinks his fellow inmate Van Gogh (Frank Jones jr) can kill by painting, and he has no idea who the beautiful woman (Tiffany Shepis) who visits him every day wearing a wedding gown even is ... but naturally, there might be good explanations for all of this.
Eventually, Dwight manages to break out - and during his escape, he tries to save a man from a car wreck, but for some reason that man refuses to be saved and dies in spite of Dwight's best efforts ... so Dwight figures, since he has tried to do the right thing, he at least might spend the night at the dead man's place and get some decent street clothes - sure, it might be stealing, but then again the guy died in defiance of Dwight's best efforts.
The next day Dwight awakens in the dead guy's house, and realizes he not only has some recollections of his "host", but also seems to ease into that guy's life, with even his wife Ellen (Amanda Howell) believing him to be the real deal. So for some inexplicable reason, he seems to have dealt his life in for a better one - with the exception that Ellen hates him with a passion actually. But him being not really her husband, he figures he might be able to fix things, as that other guy seems to have been an absolute asshole, and sane or insane as Dwight might be, he at least tries to do right ...
There are a few disturbing things though, for one, Dwight does have recollecitons of his past life, to the point where he hires a private eye (Tim Thomerson) to find out about it and the asylum he's been kept at, and then Doctor Shaker appears to him again and again, especially after Dwight finds out he hasn't even been real back when. And then there are these faceless people (or shapeshifters?) that follow him everywhere and that want to get hold of either his body or his soul, he can't be sure of that ...
True, my synopsis of Asylum of Darkness might read like a rather pulpy piece of psycho horror, and even some of the welcomely old school creatures and tentacle effects in the film might suggest the same, but in approach, Asylum of Darkness is something quite unique, a film that seems to very much enjoy to get lost in its intentionally mazelike plot only to find shortcuts and detours that one might not even have thought of, that likes to mix horror with the unapologetically grotesque, and that refuses to give too simple answers, instead lets the viewers piece together the story by themselves. This though is all carried by a restrained directorial effort that invariably puts atmosphere over spectacle, a solid ensemble cast, and a great use of some classical music intermingled with the film's enjoyably old school score.
Worth a look, but be warned, this one will probably stay with you for a bit ...