Hot Picks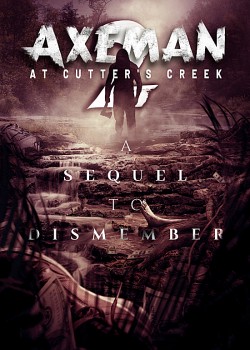 It's not really Deputy Darlene's (Arielle Brachfeld) day today, not only is she deadly hung over and has just drunkenly had sex with a man (Peter Stickles) she couldn't be interested in less, she also learns the local sheriff has been murdered, leaving her pretty much in charge of the little village in the woods her dad's (Glen Ratcliffe) mayor at. And investigating his death, she stumbles over two badly injured campers (Whitney Nielsen, Joston Theney), who claim they have just escaped the notorios Axeman at Cutter's Creek (Bryan Clark), a local legend her father is said to have taken down 30 years ago - but when the three of them are actually attacked by the Axeman and manage to escape only just. Darlene sees it both as her duty and a chance to finally step out of her dad's shadow and organizes a local posse to hunt down and kill the Axeman for good - even though her mother (Monique Parent) begs her not to, as the legend of her father raking down the original Axeman might have been a little ... exaggerated, and her putting an end to the villain might do more harm than good. Thing is, our posse isn't alone in the woods, there's also a group of bible thumpers (Alisha Seaton, Farrah Abraham, Arielle Hader, Edward Gusts, Allen Merritt) who apparently have murder on their mind, and a group of bankrobbers making their getaway through the woods, lead by immoral Bird (Craig Partamian) and his batshit crazy moll Sunshine (Jacqui Holland) - her masturbation scene is probably one of the most disturbing things I've seen in a long time -, who definitely won't shy away from violence, even among one another. And add to that mix a second Axeman (Michael Wayne Foster), and you've got the perfect recipe for disaster ...
Genre fave Maria Olsen plays Deputy Darlene's right hand woman.
Now to make an interesting sequel to a slasher movie is a hard job for sure, as once the premise is in place, the rest's just formulaic filmmaking - but writer/director Joston Theney has achieved just that, by making this more than just another slasher, throwing elements from different genres - from gangster flick to home invasion to whodunnit - onto what's established, even adding bits of comedy, while holding things together via a clever script that very nicely juggles the different and diverse narrative threads before tying them together in a pretty exciting and rather brutal finale that really manages to surprise even genre experts like myself. And the outcome of this all is apretty entertaining genre flick for sure!