Hot Picks

Babes in Psycho Land


USA 2018
produced by
Diana Silvio (executive), Joseph J. Bondi (executive) for Kiss of Death Productions, Z-Diet-3 Productions, Baywood Films
directed by David Silvio
starring Ryan Bergman, Danielle Brickman, Melissa Rae Bender, Jill Mesaros, Mary Houle, David Dietz, David Ogrodowski, Joseph Bondi, Steve Strosser, J. Evan Bradbury, Crystalann Jones, Bre Brown, Brian Stowell, Michael Barnett, Diana Silvio, David Silvio
written by Diana Silvio, music by Josh Weinel, cinematography by David Dietz, David Silvio, edited by David Dietz

review by
Mike Haberfelner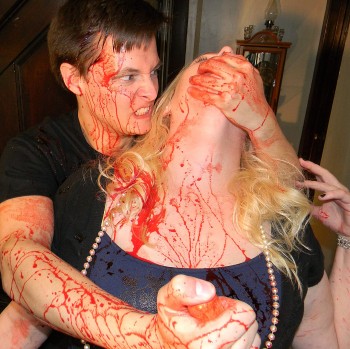 Cheryl's (Jill Mesaros) a petty thief on the run, and she finds a farmhouse in the middle of the woods that promises abode ... but she's almost scared off by grumpy caretaker Sam (David Dietz) before sympathetic young Andy (Ryan Bergman) takes her in - much to the anger of his aunt Mary (Melissa Rae Bender), who doesn't like him having girls on his room. Eventually, Cheryl tries to leave - and swipe an envelope full of money while she's at it - but she soon has to realize leaving's easier said than done.
Deputy Paisley (Danielle Brickman) is on Cheryl's trail, and of course she eventually stumbles across the farmhouse in the woods, and something seems fishy to her from the get-go - and before long Alex (also Ryan Bergman), Andy's psycho twin, takes her captive. But the deputy is nothing if not resourceful, as even when all tied up she still tries to win Andy's trust and play him against Alex, and find out as much as she can about everything in the process. She even manages to free herself - but what she couldn't forsee was that Alex has by now become completely unhinged ...
A little film that makes the most of its low budget, telling a clever tale of cat and mouse with occasional outbursts of violence, and thus crossing over from psychothriller to slasher territory (and back) frequently. And relatable characters (even the psycho ones), a subtle directorial effort, and a competent cast all see to it that the film reaches its full potential. Pretty cool for sure.