Hot Picks

- X 2019
Ballet of Blood
Ballerina Attack / Ballerina Massacre / Giselles


USA 2015
produced by
Sydney Ray, John Gonatos, Julia Faye West (executive) for Frolic Pictures
directed by Jared Masters
starring Sydney Ray, Jessica Knopf, Laura Amelia, Rubi Garcia, Marla Martinez, Dallas Chandler, Mindy Robinson, Julia Faye West, Dawna Lee Heising, Kimberly Cohen, Garrett Morosky, Jacqueline Marie Alberto, Robert Evans, Sky Patterson, Christopher Arias, Shelise Hufstetler, Walter Hochbrueckner, Krystall Schott, Vera R. Taylor, Georgie Borchardt, Geo Sargent, Bouvier, Tristan Alexander, Marylyn Brooks
written by Jared Masters, music by Laura Amelia, Doron Kochli, Anodica, Sofia Guo, Andrew Marshall, Icarus Towards Minerva, Florence Robineau, Michael Trapp, Rob Meijer, Lionel Schmitt, Alcyne, James Humberstone, dance choreographer: Jacqueline Marie Alberto

review by
Mike Haberfelner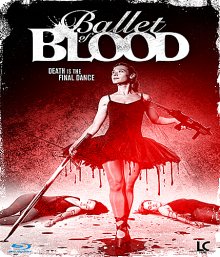 The reputation of a prestigious ballet school is at stake when one of the students, Nisa (Sydney Ray), storms in wielding a submachine gun and injuring the school's prima ballerina, Sylvie (Mindy Robinson) and thus pretty much ending her career, and on top of that making a getaway. But the shool's owner Wren (Julia Faye West) and head teacher Delphine (Laura Amelia) do everything to keep the story under lock and key, which includes shipping Ria (Jessica Knopf), the girl who provided Nisa with the gun, away to a mental institution and working the other girls even harder. But of course, an attempted murder like this doesn't just go away like this just because you wish it to, as Nisa hides out nearby planning her next strike, and Ria escapes from the mental institution to reunite with Nisa, and Nisa sees the now heavily medicated Ria as her perfect tool. Among the students of the academy, only Maren (Marla Martinez), a wannabe writer, seems to have an idea what the girls are planning, as she knows what they have been through and writes a novel about it - but she's considered a nerd by the others, so basically her warnings fall on death ears ... but of course, the inevitable is going to happen eventually ...
Dawna Lee Heising can be seen as a rather grumpy fairy godmother in one of the most (intentionally) hilarious scenes of the film.
Made on an obviously not too high budget, Ballet of Blood still comes across as a stylish and gripping horror thriller, thanks to a directorial effort that dares to fall back on off-center aesthetics, work the beauty of ballet into its plot and insert some utterly surreal sequences into the movie's thriller plot, and that also understands how to use suspense and atmosphere to the movie's advantage. And add to that jump scares in all the right places, beautiful girls in lingerie or even out of it, some pulpy mainstays, and of course the obligatory violence - and you have a movie oddly reminiscent of European horrors from past decades ... and that's a very good thing!
And if this review has gotten you at all interested, you might want to buy the movie on Blu-ray here: http://leglesscorpsefilms.com/product/ballet-of-blood-special-edition-bluray/