Hot Picks

- X 2019
The Basement


USA 2018
produced by
Brian M. Conley, Nathan Ives, Sean Decker for The Conley Company
directed by Nathan Ives, Brian M. Conley
starring Jackson Davis, Cayleb Long, Mischa Barton, Bailey Anne Borders, Tracie Thoms, Kareem J. Grimes, Sarah Nicklin, Christa Conley, Jessica Sonneborn, Maria Volk
written by Nathan Ives, Brian M. Conley, music by Aaron J. Goldstein, Alex Kovacs, Mary Webster, Stephen Mann

review by
Mike Haberfelner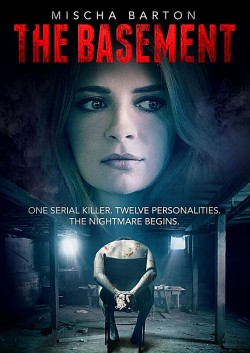 All Craig (Cayleb Long) wanted to do was pick up a bottle of champagne from the store to party with his wife Kelly (Mischa Barton), but suddenly he's knocked out, dragged into a van - and the next thing he knows he wakes up in a basement, all tied up and being threatened by a clown (Jackson Davis) who makes some weird accusations and beats up Craig for a bit before retreating. Fortunately, a police officer arrives on the scene soon - but unfortunately, it's only the clown, Billy, in a different outfit, and he claims to have enough evidence against Craig to arrest him. Over the next few hours, Craig is visited and re-visited by Billy in various outfits, and eventually it becomes clear that this is some sort of roleplay with Craig being a prisoner on death row with Billy playing the characters he might meet, including another convict, a sadistic warden, an underqualified doctor, a lawyer, even a priest. After being left gob-smacked at first, Craig soon understands that in order to survive he must play the game and try to win one of Billy's personalities over ...
In the meantime, Kelly is worried sick about the fact that her husband just hasn't returned home, and has invited her best friend Bianca (Bailey Anne Borders) over to comfort her - but soon confides in her that she has suspicions that Craig has been cheating on her for quite some time now ...
Quite an intense little thriller, that gets the most out of its limited locations and cast (with Jackson Davis of course working overtime to compensate for minimal characters) and tells a very interesting story that, despite being firmly rooted in the serialkiller genre, refuses to follow any formula and brings its tale of terror across in a rather unique way, thanks to a clever screenplay, a directorial effort that knows when to hold back and when to go all out, and a very solid, likeable and relateable cast. And the ending packs quite a punch to be sure.