Hot Picks

- X 2019
Beta Test


USA 2016
produced by
Nicholas Gyeney, André Kirkman, Larenz Tate, Shelley Stepanek (executive), Kevon Stover (executive) for Mirror Images
directed by Nicholas Gyeney
starring Manu Bennett, Larenz Tate, Linden Ashby, Kevon Stover, Brandy Kopp, Sara Coates, Yuji Okumoto, Edward Michael Scott, Edi Zanidache, Bill Sorice, Stefan Hajek, Adrien Gamache, Mark Riccardi, Angela DiMarco, Angela Okumoto, Anthony Phillips, Alan Pepper, Richard Cranor, Brad Hackworth, Kevin Park, Sean Furguson, Jeff McKracken, Andrew Dickert, Lex Damis, Gurkaran Singh, Ben Leiataua, Rob Bradstreet, Henry Feldmann, Lou Simon (II), John Steel MacDonald, Dennis Tudos, McKay Stewart, Nicholas Gyeney
story by Nicholas Gyeney, screenplay by Nicholas Gyeney, André Kirkman, music by Amir Derakh, Ryan Shuck, Anthony Valcic

review by
Mike Haberfelner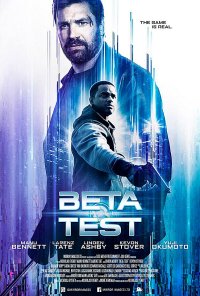 For quite some time now, Kincaid (Linden Ashby) and Creed (Manu Bennett), bosses of Sentinel Enterprises, one of the biggest video game companies there is, haven't seen eye-to-eye, which came to a head when Kincaid removed Creed from the company ... and then thugs are breaking into Creed's place, kidnap his girlfriend Abby (Sara Coates) and implant a microchip in his spine ...
Agoraphobic championship gamer Max (Larenz Tate) receives the latest game from Sentinel Enterprises, being their top beta tester, and he really likes what he sees, he's first the hero that ends a hostage situation at a bank (even if he gets away with $2 million in the process), then he helps a high school shooter (Anthony Phillips) escape - hey, bad story line, but it's only a game ... that's only in beta testing even. But then Max catches the news that both these incidents have actually happened, right when he played the game, with exactly the outcome he saw on his monitor ... and eventually, it becomes clear to him that during his gaming sessions, he has actually controlled Creed in real life. Shocked at what he did (especially helping the school shooter escape), Max wants to quit immediately, but whoever it is who's on top of this has made very sure that both Max and Creed will remain part of the game willingly - so the only way to survive is actually playing the game.
Now fortunately, Max knows how to play games better than everyone else - but unfortunately, the real world isn't always as simply to master as a video game ...
Now ok, from a purely logical standpoint, Beta Test doesn't make all that much sense, it's maybe not as far fetched as Tron has been back in the day, but still rather removed from a realistic depiction of gaming. That said though, Tron has become a bona fide genre classic ... and while Beta Test is by no means as trailblazing as the earlier film (and hasn't set out to be), it's based on a very tight script that might be far-fetched but it's also narratively stringent and true to its own logic - and it's well-structured, fast-paced and features action aplenty. And especially the scenes where the real world and the game world meet are rather lovingly executed. Plus, the film's over-the-topness without ever really overdoing it is really endearing.
Really fun entertainment, actually!