Hot Picks

Betrothed


USA 2016
produced by
Carole Vesely, Jim Lane, Marie Y. Lemelle, Joey Bell, Greg Munsell (executive) for Red Cardinal Films
directed by Jim Lane
starring Mikayla Gibson, Joey Bell, Trae Ireland, Bill Oberst jr, Omar Gooding, Amy Lindsay, Bunny Gibson, Suze Lanier-Bramlett, Willow Hale, David Reynolds, Jamie B. Cline, Adam Dunnells, Nailya Shakirova, Trent Kerpsack, David Brown, Elizabeth Castillo, David Fernandez jr, Steven Vance, Dawn Vaughn, Charyse Monet, Leticia Farr, Karina Weeks, Greg Munsell, Reatha Grey
written by Jeff Rosenberg, music by Joe Sloan, Daniel Silva, special effects coordinator: Joshua Brokaw, special effects makeup by Rick Bishop sr, visual effects by Dorian Otero

review by
Mike Haberfelner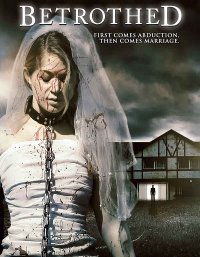 Audra (Mikayla Gibson) is just your typical teen who's good at being mouthy and who's returning for the weekend ... when she suddenly disappears when she was only shopping for her mum (Amy Lindsay) - but when mum wants to report her disappearance to the police, she's met with deaf ears ... and out-of-town detective Gordon (Trae Ireland), who can at least feel her frustration because he has a daughter himself. But being a stranger to this parts - small town USA where the houses are often tens of miles apart - his success rate is bound to be limited.
Now Audra has been kidnapped by Adam (Jamie B. Cline) and Nate Cooper (Adam Dunnells), who are under their mother's (Bunny Gibson) thumb to get themselves wives who'll make them kids. Audra ought to be Adam's wife, and she has to pretty much witness how Nate's wife (Nailya Shakirova) is treated when she fails to fully obey - she's pretty much dismembered by chainsaw.
Good thing then that Audra's not only a smart-ass who knows how to talk back to her mum, but also smart enough to play it by ear until the brother's are gone, and then manages to overcome their mum, actually, and free their chained up brother Ethan (Joey Bell) - he's gay, so mum didn't like him - but breaking free and getting away when the next modest village is about 150 miles away are two different things altogehter ...
Genre faves Bill Oberst jr and Suze Lanier-Bramlett play relatives of the Cooper family.
Betrothed is first and foremost a really nice shocker, as it is somehow based on the slasher formula but really plays its own unlikely theme upon it, it does provide one with plenty of well fleshed-out characters brought to life by a very solid cast, and it has all the suspense, shocks, gore, scares, and even laughs in all the right places to keep the audience entertained throughout - in a word, rather awesome genre entertainment!