Hot Picks

- X 2019
Beyond Fury


UK 2020
produced by
Darren Ward, Laurence Harvey (executive) for Giallo Films
directed by Darren Ward
starring Nick Roberts, Giovanni Lombardo Radice, Anthony Straeger, Gary Baxter, Tina Barnes, Glenn Salvage, Joanna Finata, Harold Gasnier, Chris St. Omer, Dani Thompson, Jeff Stewart, Dan van Husen, Tony Mardon, Dean Price, Victor D. Thorn, Jamie Dunn (= Jay Creepy), Hannaj Bang Bendz, Mark Chapman, Daniela Heinisch, Marisa Silva, Paul Bird, John Lush, Sam Chandler, Russell Biles, Chris Nelthorpe, John Raggett, Lukasz Klocek, Lee Craven, Neil Lawler, Daniel Harris, David Pilgrim, Gillian Tully
written by Darren Ward, music by Dave Andrews, special effects supervisor: Alastair Vardy, special makeup effects by Beau Townshend, visual effects by Chris Nelthorpe

review by
Mike Haberfelner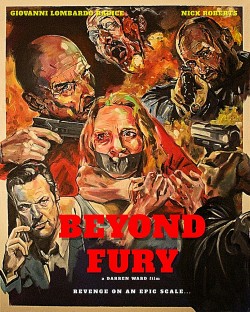 Walker (Nick Roberts) and Claudia (Dani Thompson) couldn't be happier, they're madly in love, she's pregnant with his baby, and they're on their way to take a look at a house they intend to buy - when they're dragged into a van, driven off to a derelict building, and once there brutally beaten up by some goons just for fun, then she's stabbed into the belly to kill her and her child at the same time, then her dead body is raped - which he's forced to watch before being killed himself. Only, Walker doesn't die easily, and when he's found alive by the authorities, he's quickly shipped off to the next hospital - from where he escapes in no time to make it back to his house - because what nobody knows, in a former life, he has been one of the fiercest mercenaries there is, and when he's enraged, there's nothing that can stop him, and he won't refrain from ultra-violence to get the job done. So one by one he picks off the goons who have attacked him and his wife, and eventually he finds a lead leading to their mastermind, crime kingpin Ivan Lenzivitch (Giovanni Lombardo Radice), who pretty much rules the city together with his sadistic son Spider (Gary Baxter) - but for Walker they're no better than his attackers back when and are therefore to be eliminated, so killing his way through their ranks, he before long finds out where to find them. Of course, Ivan and son soon become aware that somebody's coming after them, and they kidnap Gemma (Tina Barnes), the woman who has always had Walker's back, as a sort of human shield - but that only enrages Walker even more. Detectives Andrews (Joanna Finata) and Scott (Harold Gasnier) are hot on Walker's trail as they want to prevent the worst - but it seems Walker is heading for disaster eyes wide open ...
Spaghetti Western veteran Dan van Husen makes a guest appearance as a priest.
Now Beyond Fury certainly isn't a movie for everyone, it's unrelentingly and unapologetically violent, and it certainly doesn't turn away when it comes to bloodletting. Furthermore, its plot about revenge at all cost is certainly on the archaic side of things. But that said, the film isn't just a brainless revenge tale that's little more than a hanger for scenes of gratuitous violence, as the film actually tells a nicely layered story that affords its avenger an actual character arc and that has all the violence integrated into the plot rather than making it its raison d'être. On top of that, the film's very nicely crafted, its action scenes are very dynamic and exciting, and a very solid cast all help to make this into a very fine action flick. Not for everybody perhaps, but if a little on-screen violence is your thing, then you're bound to like this one.