Hot Picks

Beyond the Trek
Teleios / Deep Space


USA 2017
produced by
Hayley Helmreich, Matthew Gore, Jeffrey Magnussen (executive) for Thousand Mile Media
directed by Ian Truitner
starring Sunny Mabrey, Lance Broadway, T.J. Hoban, Christian Pitre, Mykel Shannon Jenkins, Ursula Mills, Weetus Cren, Michael Nouri, John Posey, Leila Birch (voice), Andreas Lyon, Philip Tan, Armando DuBon jr, Spencer Stone, Brett Robert Culbert, Seth Duhame, Ryan Ryusaki
written by Ian Truitner, music by Roman Kovalik, visual effects by Matthew Gore (supervisor), Heather Paul (producer)/Lux Visual Effects

review by
Mike Haberfelner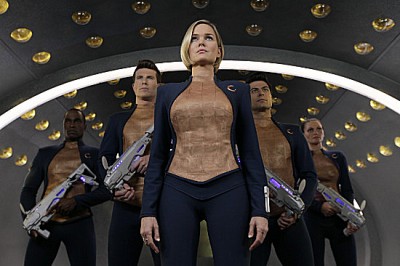 In the future, when space travel in hibernation, exploitation of the planets in our solar system and android household helps are a reality and genetically optimized humans have just been developed, a team of genetically optimized humans travel to a mining station circling Titan on a rescue mission since the crew of the station is believed to be dead, and they're to retrieve the station's cargo said to be vital for mankind.
On the station, our heroes find a survivor though, O'Neill (Weetus Cren), plus the station's fully functional android Lulu (Ursula Mills), and apparently the two have become in a weird way involved romantically. Thing is, only O'Neill knows where the cargo is, and he has grown a bit odd while on the station (all others have been killed by at first unknown causes) and refuses to talk. Thing is, the rescue crew, the "perfect" humans who are known to have no human emotions, suddenly start to having those, and are not prepared for them at all: Crewmembers Zimmer (T.J. Hoban) and Anderson (Christian Pitre) fall in love and lust, which is even a bit sweet, but Commander Linden (Lance Broadway) experineces jealousy and sees his role as alpha dog challenged, the ship doctor Orson (Mykel Shannon Jenkins) grows more and more violent and sadistic, and the psychologist Duncan (Sunny Mabrey) who is to question O'Neill finds it hard to control her temper - and eventually they learn genetic optimization in general has gone awry and on earth its humans versus superhumans because of that as only (un-engineered) human blood can keep the genetically modified humans in check ... and the only human on board is O'Neill - but he's got Lulu on his side and knows the station like the back of his hand, so everything turns into a game of cat and mouse - and it's to everyone's guess who's the mouse ...

Available on DVD !
To buy, click on link(s) below and help keep this site afloat
Always make sure of DVD-compatibility !!!

Sure, Beyond the Trek borrows from many classic and cult science fiction movies, with Alien and Android and a dozen others springing readily to one's mind, and the costumes and sets will probably make this look old before its time - but it's a really well and thoughtfully written piece of sci-fi nevertheless, one that dares to look beyond good-and-bad dichotomy and hides social commentary between the lines without taking sides or giving simple answers to complex problems. But at the same time, it's also a well-paced and -directed movie with plenty of tension and suspense, and enough surprises along the way to keep one on the edge of one's seat!