Hot Picks

- Us 2018
Blood Moon River


USA 2017
produced by
Tom Komisar, Daniel Murphy for HM&M Films
directed by Daniel Murphy
starring R.J. Cecott, Cara McConnell, Stan Traylor, Naphatia St Pierre, Eric Reaume, Sydney Dean, Linda Schrader, Sara Ingram, Tom Komisar, Cameron Scott, James Michael, Daniel Murphy, Jack Norman, Rebekah Erb, Tony Walters, Edward Diersen, Lindsey McIntire
story by Daniel Murphy, Tom Komisar, screnplay by Tom Komisar, creature effects by Jack Norman, Travis Dahn, Daniel Murphy

review by
Mike Haberfelner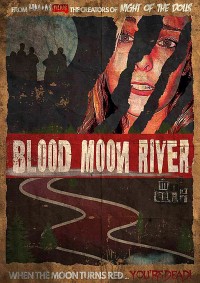 A young filmteam (R.J. Cecott, Cara McConnell, Stan Traylor, Naphatia St Pierre, Eric Reaume, Sydney Dean) running the show "D'Bunk't" that's famous for debunking urban legends wants to debunk yet another urban legend, that of the titular "Blood Moon River" where people are said to have disappeared, allegedly dragged away by wolves, and some even blame werewolves. Of course, our heroes think that's total baloney, utterly unaware to the fact that two of their associates (Linda Schrader, Sara Ingram) have indeed been attacked by someone - or something - and dragged off their campsite. Of course, apart from a few strange noises our youngsters witness exactly nothing the first night, and despite most of them being too drunk or stoned to put up a good fight ... there isn't anything to fight. But when they want to leave ... they find their cars' gas having been siphoned off - which considering they're in the backest of the backwoods can't be just a coincidence or the action of professional gas thieves but an action to keep them local - and then they're attacked and killed or dragged off one by one, and it seems the legends of the wolf beast (werewolf?) are true ... but if so, how come a hillbilly family (Tom Komisar, Daniel Murphy, Cameron Scott, James Michael) have been living here for a lifetime pretty much unscathed?
I fully admit, the found footage approach of Blood Moon River might be quite a bit of a turn-off to a lot of folks from the get-go, but this movie manages to make good use of it and properly integrate it into the story, relying on more than just shaky camera to fake excitement but instead trying to get some cinematic shots out of it even though, and creating a creepy atmosphere due to the comparatively little we see due to the filmmaking approach. And the plottwists leading into the finale will very much surprise everyone for sure, and also how it's played out.
Worth a look at least.