Hot Picks

Blue World Order


Australia 2017
produced by
Sarah Mason, Ché Baker, Tim Maddocks, Matthew Reilly (executive), Michael McGoogan (executive), Catherine Prosser (executive), Michael Mulrine (executive) for Full Point Films
directed by Ché Baker, Dallas Bland
starring Jake Ryan, Stephen Hunter, Bolude Fakuade, Billy Zane, Kendra Appleton, Barbara Hastings, Billie Rutherford, Jack Thompson, Bruce Spence, Dallas Bland, Ayesha Dewar, Tim Stiles, Raoul Craemer, Zhenshi Van Der Klooster, John Kelly, Ché Baker, Luke Hendrickson, Nick Byrne, Pete Butz, Steve Rudic, Andy Trieu
written by Dallas Bland, Ché Baker, Sarah Mason, music by Michael Lira

review by
Mike Haberfelner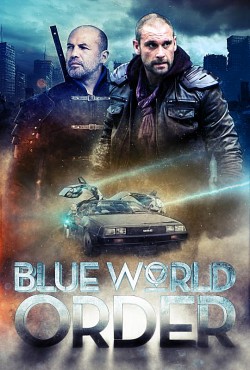 The apocalypse has happened, and most of humankind has been eradicated by a bio-tech virus, and the rest of them is gouverned by micro-chips. In this world, Jake (Jake Ryan) only does what every good father would do: Keep his daughter Molly (Billie Rutherford) safe. What he doesn't know of course until it's almost too late: Molly's the last child alive and she seems to be immune to the virus - which makes her invaluable for gouvernment forces ... who are of course to blame for the apocalypse in the first place. But before they can get their hands on Molly to probably dissect her, she and Jake are saved by unlikely hero MadCap (Stephen Hunter) of the Rebellion. From MadCap, Jake gradually learns what's happening, but then his daughter's kidnapped and taken to the "Tower", the hi-tech HQ of the gouvernment that's supposed to send out an obedience update to everyone's implanted chip to stamp out the Rebellion once and for all - so now Jake and MadCap are united in the mission to have to enter the place - but once there, they're less than likely to like what they find ...
Bily Zane plays Jake's former mentor turned chief baddie of the piece.
Blue World Order is a nice little genre flick that might have been made on a low budget but works at least as well as its bigger budget buddies as it's based on an intelligent and interesting story, combines narrative complexity with to-the-point storytelling, and has action and suspense, tension and explosions in all the right moments - and it being carried by a very competent cast of course doesn't hurt one bit either.
Nice genre fun, to say the least.