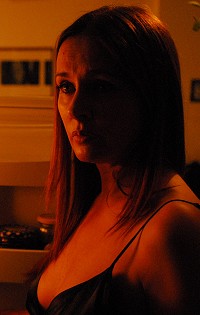 Lydie Denier
Sarah (Lydie Denier) receives a bouquet of flowers, presumably from her lover - and she makes the mistake to let the delivery girl into her appartment, as she turns out to be Stefanie (Roswitha Schreiner), the wife of Sarah's lover, and Stefanie is not only less than amused about her husband's affair, she's also hell-bent on having her revenge on Sarah - and before you know it, Sarah is tied to a chair, gagged and pretty much at Stefanie's mercy. But Sarah's not a quitter, so while Stefanie's in the kitchen choosing the right tool to kill Sarah with - Stefanie has never killed anyone before, so thaat takes a while -, Sarah drugs her tea.
Then there's a knock at the door, it's Myriam (Katja Bienert), Sarah's friend, and when Stefanie opens and introduces herself as Sarah's sister, it doesn't take Myriam long to figure out there's something wrong - but before she can figure out what's wrong, Stefanie has already killed her. But that kill breaks Stefanie, since she a) has never killed before (as mentioned above), and b) Myriam was totally innocent, and she had no reason to kill her.
Being on the verge of a breakdown, Stefanie reaches for the tea, drinks a few sips ... and loses consciousness - long enough for Sarah to free herself and lock herself in the bathroom ... which is already occupied by Myriam's corpse though. It's only in the finale, when Stefanie breaks down the bathroom door, that we learn that Myriam hasn't been quite dead but had just enough life in her to stab Stefanie ...
Two years later: Another bouquet is delivered, only this time Sarah is the delivery girl.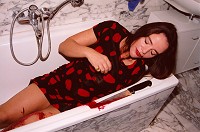 Katja Bienert
Basically, this is the English language version of the Unhappy End!-episode Du sollst nicht Ehebrechen, though with a few new twists and turns and a different ending to make this one watchable enough for even those who know the original - plus the direction is tense and the actresses are uniformly great. The main problem of this featurette though is its length: At a mere half an hour, the plot fails to develop to the fullest, and especially the finale seems a bit underdeveloped. This one would have deserved to be a feature film, but even as it is, it's still entirely watchable.