Hot Picks

Breaking Ice


Ireland 2020
produced by
Jason Branagan for Liberty Video
directed by Jason Branagan
starring Larry Tracey, Gerry Macken, Terry McHugh, Paul Hyland, Cormac Smith, Peter Donohoe, John Farrelly, Garry Power, Pat McDonagh, Malachy Sheridan, Brendan McDonald, Barry John Kinsella, Nicholas Lane
written by Jason Branagan, music by Ken Baker, animation director: Rachel Fitzgerald


documentary

review by
Mike Haberfelner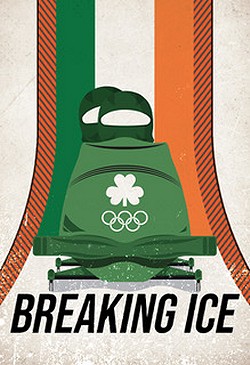 Ireland 1986: Sports promoter Larry Tracey decides to put together an Irish bobsled team with the express goal to participate in the 1988 Winter Olypmics in Calgary, as the first Irish ever to compete at that tournament. Without any homegrown bobsleighers, Tracey recruits a handful of championship rowers for the job, and maybe against all odds, they're getting fairly good at bobsleighing - not good in the sense of world champions mind you, but decent mid field. And even though they fulfill all requirements to compete easily, the Irish Olympic Committee yanks their participation at almost the last minute - and nobody knows the real reason, but it's speculated they didn't want to have the equivalent of British ski jumper Eddie the Eagle as the sole Irish competitors. That ultimately backfired, as Eddie the Eagle, despite finishing last, had probably the highest entertainment value of all ski jumpers, while in the bobsleigh tournament the Jamaican team became the loveable underdogs, boots that the Irish could have filled handily.
But Larry Tracey and his team didn't give up there, and worked even harder to qualify for the 1992 Olympics in Albertville, France, and this time were actually allowed to go. They finished in the bottom third of their competition mind you, but opened the country up to not only bobsleighing but winter sports in general ...
In a way, this movie could have easily become another loveable fairy tale like Cool Runnings (about above-mentioned Jamaican bobsleigh team, told as a comedy), but has instead opted to dig deeper, to show the hard work, and also disappointments, behind a story that was very unlikely to end in triumph from the get-go, was always just about competing, never about winning - and especially at that, this documentary is very inspiring, even if you normally cannot be bothered to care in the least about competitive bobsleighing.