Hot Picks

- X 2019
Brothers of the Wind
Wie Brüder im Wind


Austria 2015
produced by
Walter Köhler, Philip-Jaime Alcazar, Gerald Salmina (wildlife producer), Dinah Czezik-Müller (executive), Michael Frenschkowski (executive), Joanne Reay (executive) for Terra Mater Film Studios
directed by Gerardo Olivares, Otmar Penker
starring Jean Reno, Tobias Moretti, Manuel Camacho, Eva Kuen
idea by Otmar Penker, Gerald Salmina, screenplay by Joanne Reay, music by Sarah Class

review by
Mike Haberfelner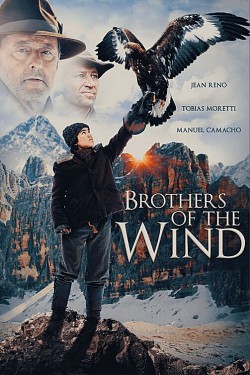 Somewhere in the Austrian mountains: Since young Lukas' (Manuel Camacho) mother has died, he has seized to talk - to other people at least, but he has formed a strong bond with nature - much to the dismay of his father, stoic hunter Keller (Tobias Moretti), who's basically trying to suppress the death of his wife and force life to go the way it always has. One day, Lukas finds a young abandoned eagle whom he christens Abel, after the story of Cain and Abel, and whom he takes care of and brings up as he thinks an eagle's supposed to be brought up. However, he hides this from his dad, who does also shoot eagles should the situation demand it.
One day, Lukas is found out by Danzer (Jean Reno), also a hunter but much more in tune with nature than Keller, and he helps Lukas bring up Abel, even persuades Keller to let his son stay with him for the summer under some pretense. But eventually the eagle is fully grown and leaves the nest, so to speak - but Lukas' journey is not yet at its end ...
One thing one can't deny regarding this movie: The visuals of wildlife and nature as such are nothing short of breathtaking - which is in part due to the film being mostly shot in the natural preserve Hohe Tauern, one of the most beautiful spots in the Austrian Alps, but it also has to do with first rate camerawork, and the fact that the direction doesn't sugarcoat things: It shows nature in all its beauty but also cruelty, thus shows the eagles not only as beautiful creatures but also birds of prey - who are not always winning their fights, and contrapoints the majestic mountains with landslides in their wake. So for this being what one might want to call a "Heimatfilm", this isn't cheesy in the least. And as for the story, it might essentially be a fairy tale, but it's compelling for its starkness and honesty. And very strong performances by all of the involved of course only helps the film reach its full potential.
Totally recommended!
If this has gotten you at all interested, this movie will make its US debut in theatres and on VOD on June 19th 2018.