Hot Picks

- X 2019
Bullets of Justice


USA / Russia / Bulgaria 2020
produced by
Timur Turisbekov, Janko Bogdanov (executive), Valeri Milev (executive)
directed by Valeri Milev
starring Timur Turisbekov, Doroteya Toleva, Danny Trejo, Yana Marinova, Neli Andonova, Askar Turisbekov, Semir Alkadi, Ester Chardaklieva, Gergana Arolska, Emanuela Toleva, Dessy Slavova, Georgi Stanislavov, Dumisani Karamanski, Svetlio Chernev, Daniel Zlatkov, Vei Fan Li, Dara Kandi, Dinko Angelov, Alexander Ralfietta
written by Valeri Milev, Timur Turisbekov, music by Timur Turisbekov, special effects & makeup by Ludmil Ivanov, Lyudmil Nikolov, Sofia Rakova, visual effects by Dimitar Itskov

review by
Mike Haberfelner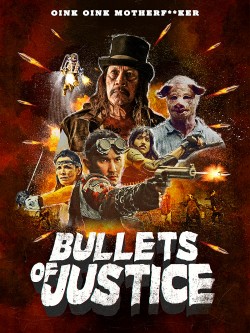 It's World War III, and whoever's winning, humankind seems to be losing - and that's only accelerated when one side (which one is the name of the blame game) tried to develop a super soldier by crossing humans with pigs. The good news, the experiment succeeded beyond expectations, but the bad news, the experiment succeeded beyond expectations, to an extent that the crossbreed, called Muzzles, has since become the dominating race of the planet, and they're feeding on humans. And so successful have the Muzzles become that they have begun to keep humans in cages to forcefeed them. Of course, they haven't captured all humans (yet), but are continually roaming the wastelands for humans to feed on. Of course, humankind, united against the bigger foe, has tried to stop the Muzzles via biochemical warfare, but all they succeeded was making all creatures sterile, all but the Muzzles' Queen Mother, who does her best to keep their numbers up. However, now the humans have captured Benedict Asshole (Alexander Ralfietta), one of the Queen Mother's confidants, and they're ... setting him free again to have him via a secret tracker lead their top soldier Rob (Timur Turisbekov) and his mustachioed stepsister Raksha to Queen Mother herself. But nothing is as it seems in a world reigned by Muzzles as it turns out there are many humans turning against their own kind, including those Rob and Raksha trusted, plus Rob's old nemesis Rafael (Semir Alkadi), the only man with a sexier ass than his own (that's the reason for their feud, actually), seems to be seminal for an operation leading Rob and Raksha, and as a consequence humankind as such, to their doom ...
Genre fave Danny Trejo plays Rob and Raksha's foster dad, who gave her life saving them when they were young.
Ok, the premise for Bullets of Justice is silly as can be, the dialogue's very much on the clichéed side of things, and the film has the feel of any number of 1980s sci-fi/action epics, with Hell Comes to Frogtown coming to mind the most readily - and all of this seems to be purely intentional, and really is half of the movie's charm with the other half being its rather insane sense of humour that doesn't shy away from crossing the line to bad taste - repeatedly - and at times just seems to push for silliness. But that said, this movie's still more than just a nostalgic gag show, it's actually very well conceived, with action and special effects at least on par with today's low budget actioners, all of which falls together to a really fun ride.