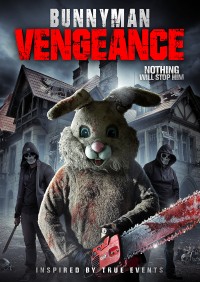 The Bunnyman (Joshua Lang) isn't exactly Mr. Nice Guy, as a matter of fact his favourite pastime is killing people who cross his neck of the woods, preferably young campers, and preferably with a chainsaw - but now he's fallen in with a bad crowd, namely two drug pushers (Michael Shaun Sandy, Omari Washington) who are about to re-appropriate an abandoned church in the neighbourhood as a haunted house attraction to cover up their meth lab - and Bunnyman is to be their main attraction. Why does he remain with them then? Because he has taken a liking to their aide, the mentally challenged but good natured Jacob (Pucci Tres). Plus Bunnyman's new friends do have a liking for kidnapping and torturing young campers, which meets very well with his own predilections. So in a way, everything should be great - or at least as good as it gets - until opening night of the haunted house, where Bunnyman brutally kills everyone who enters - and that's something that can't go undiscovered for too long ...
Now I don't say that this third and probably final Bunnyman film is exactly re-inventing the horror genre - but it successfully moves away from the slasher formula without betraying the series' integrity in the least: There's still plenty of gore, brutal murders, suspense and everything, but this time around the film is told from the Bunnyman's perspective, makes him almost the tragic and misunderstood hero of the piece - until he once again starts killing of course. Now of course, getting emotions out of an expressionless (and slightly silly) bunny mask is all but easy, but director Carl Lindbergh shows plenty of cinematic finesse to achieve just that and get the most out of his sparse locations as well. Plus a psychedelic dream sequence is certainly not to be missed.
Well worth a watch, and at least if you're not a slasher purist it's quite probably the best of the series!