Hot Picks

The Campus


USA 2018
produced by
Joe Bartone, James L. Bills, Kacper Skowron, John Mitchell (executive), Robert C. Pullman (executive), Paul Norman (executive) for Gas Money Pictures, Small Factory, ANC Entertainment
directed by J. Horton (= Jason Horton)
starring Rachel Amanda Bryant, Robert C. Pullman, Brit Sheridan, Scott Menville, Mohamed Hakeemshady, Justin Chamberlain, Aaron Groben, Kevin Caliber, Tyler Baker, Jean David Cordova, Scott Butler, Bri DiMattio, Priya Valentine Pullman, Ever Bleu Pullman
written by J. Horton (= Jason Horton), music by Darryl Blood, Joe Bartone, creature design by BravoFX, special effects makeup by Robert Bravo, Julia Hapney

review by
Mike Haberfelner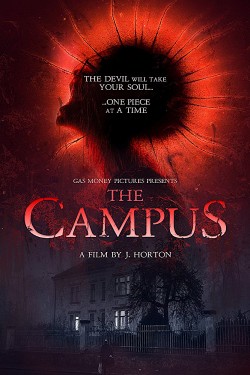 Morgan's (Rachel Amanda Bryant) father (Robert C. Pullman) has died - but it's not as if she'd shed many a tear about it, as he has never been a good father, has kicked her out before she was yet 18 years old, and has always prefered her younger sister Natalie (Brit Sheridan). And thus, Morgan doesn't even pretend to be heartbroken at the wake, but she tries to steal a few valuables from her father's office while in town as sort of recompensation.
Problem is, dad has been an archeologist, and during one of his excavations he has made a deal with the Devil, promising him his soul, but later he has broken the promise, and thus Morgan has inherited a curse - which pushes her into a loop where she's locked inside her dad's company's premises and has to face masked killers, creatures, zombies and whatnot. Morgan's nothing if not resourceful, and good at standing her own - but she dies again and again, to be resurrected right at the starting point of her ordeal with another little bit of her soul gone. Problem is, if she doesn't find a way out of this, her soul will be gone for good before long ...
Of course, the time loop premise of this movie was popularized by the comedy Groundhog Day, and if would be wrong not to mention this - but the similarities end right there, as other than that, The Campus is pure survival horror that's tense as hell and dynamic to boot, using the concept mainly to maximise the horror and give its lead a vulneratility that otherwise cannot be achieved. And a tight directorial effort that's genre savvy and makes great use of the locations, as well as a strong central performance by Rachel Amanda Bryant make this well worth a watch!