Hot Picks

- X 2019
Chase


USA 2019
produced by
Michael Matteo Rossi, Jane Badler, Katrina Nelson, Hank Mazzola (executive)
directed by Michael Matteo Rossi
starring Damien Puckler, Aries Spears, Jessica Morris, Skye Townsend, Richard Riehle, Eli Michael Kaplan, Harry Hains, Paul Duke, Simeon Panda, Devanny Pinn, Joaquin Garay III, Victor Boneva, Felix Martinsson, Freddie Webster III, Rachel Alig, Oghenekaro Itene, Rob Niter, Alexander T. Hwang, Ronnie G., Kirk D. Bevier, Bidkar Ramos, Ellana Barksdale, Damien Tucker, Rene Abelar, Francesco D'Onofrio, Hank Mazzola, Chris Pozzi, Chris Brown, Daniel Merino, Jillian Riti, Amor Sanchez, Bailee Pozzi, Julietta Indelicato, Eshaana Sheth
written by Michael Matteo Rossi, music by Salil Bhayani

review by
Mike Haberfelner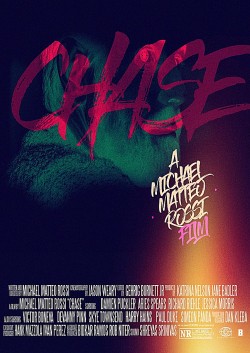 Chase (Damien Puckler) is a professional hitman - and one of the best in his profession, because doing what he does is his absolute passion, gives him pleasure. That's not to say he's a mindless psychopath, as he doesn't kill for sport, just for money, and it's not so much the violence but the precision which he likes about his job. And he actually also has a softer side to him, one that allows him to be a good husband to his wife Blair (Jessica Morris), who only has a vague idea what he's doing and just prefers to ask not too many questions, and a great foster father to little Micah (Eli Michael Kaplan), the son of a man he murdered he took in out of sympathy.
Thing is, this soft side is not very much apreciated by Chase's employer and oldest friend Miles (Aries Spears), who figures having a family will only make Chase, and with Chase Miles' whole operation, vulnerable. So he lures Chase away to a bogus hit and has his footsoldiers Burke (Harry Hains) and Lola (Skye Townsend) beat up Blair and kidnap Micah. Chase is totally baffled by this at first, but he's professional enough to track down Burke and beat the truth out of him in no time, then he contacts Miles. Miles gives him a 24 hour ultimatum, either he gives up wife and kid to stay on board but the two get to live, or he has to fight his way out. And to prove how serious he is, Miles sends Lola after Blair. Together, Chase and Blair can take out Lola though, but it more and more dawns upon Chase that the only way to save her and Micah for good is to go against Miles on his own. And however good he is, he has learned his trade from Miles, so the chances to get out of this alive are iffy at best ...
There are no two ways about it, the story that Chase tells is very bleak, inasmuch as it's about man on the verge of losing it all, and despite that man being an unapologetic bad guy, one still feels obliged to feel for him - and that's why the film's rather ingenious at the same time: Its central character, Chase, is presented as a human being with all his flaws but also positive traits - as is his chief nemesis Miles -, so whatever happens to him resonates with the audience. And packing plenty of action into the film of course helps in keeping the audience at the edge of their seats, but the action never overshadows the narrative, rather furthers it. And add to that a strong cast, and you've got yourself a very cool movie.