Hot Picks

Chopping Block


USA 2016
produced by
Jim Hardison, Bryan Wilson, Matt Rich, Camille Hull, Joshua Hull (executive), Tre Bennett (executive) for 1019 Pictures, Colorfully Dark Productions, Libmatic Films
directed by Joshua Hull
starring Michael Malone, Raymond Kester, Jas Sams, Bryan Wilson, Alex Raaen, Haley Madison, Dennis Crosswhite, Melissa Revels, Tia Mapes, Cliff Edens, Nick Wayne, Erin Michele Wolf, Linda Bruessel Raaen, Gene Troggio, Tyler Duke, Kate Raaen, Bob East
story by Joshua Hull, John Taylor, Michael Malone, screenplay by Joshua Hull, music by Kevin Yost, special effects by Mike Dobrzelecki, Matt Scott

review by
Mike Haberfelner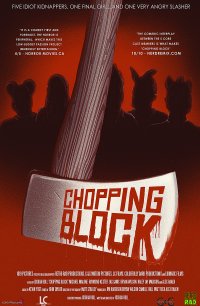 Slightly alcoholic Donnie (Michael Malone) and his team - Steve (Raymond Kester), Books (Jas Sams), nerdy Will (Bryan Wilson) and young Richie (Alex Raaen) - are fired from their jobs because of a botched up presentation, and thus, during a "farewell job" drinking binge, they decide to kidnap Danielle (Haley Madison), the daughter of their asshole boss (Dennis Crosswhite). Once sober, only Steve opposes the idea - but he, the oldest of the group who's to marry off his daughter (Melissa Revels) in a couple of months and is married to a nagging wife (Tia Mapes), has the most to lose actually if he doesn't find a job soon ... and, well, he doesn't, neither do the others, so they ultimately decide to go through with the plan ... and prove to be totally unfit for the job, they wear ridiculous animal masks on their mission, almost miss their victim, panic when they find her walking the streets covered in blood (none of their doing), always let their real names slip, they aren't prepared to do a proper ransom call (their boss recognizes them by their voices even), and when Books wants to give hyperventilating Steve a downer, she actually puts him on acid, with the expected consequences. But all of these are only minor hiccup when compared to the fact as to why Danielle is covered in blood: She's the only survivor of a frat party massacre, and now the killer's after her - and that killer, a quite rotund woman with a distorted face, seems to have supernatural abilities to find those who have escaped her ... and soon enough, she turns up at the kidnappers' doorstep, with slaughtering on her mind ...
A kidnapping comedy that suddenly turns into a slasher flick - might not be the most usual of blends, but in the case of Chopping Block it works rather nicely, as the whole thing is tightly and cleverly scripted, the characters are so well fleshed out that even the film's cruder joke work within their context, the direction knows when to go all-out and when to hold back, and the ensemble cast really live up to their challenge. And despite quite a bit of gruesomeness, Chopping Block is basically just darn funny!
If this review has gotten you at all interested, you might want to get the movie here - http://leglesscorpsefilms.com/product/chopping-block-special-edition-blu-ray-or-dvd/ - or here - https://vimeo.com/ondemand/choppingblock.