Hot Picks

- X 2019
Clownface


UK 2019
produced by
Mark Adams, Nathan Head (executive), Chase Whitton (executive), John Lepper (executive), Adam Whitton (executive), Kev Davies (executive), Jon Vangdal Aamaas (executive), Richard Hobday (executive), Matt Warner (executive), Alex Bourne (executive) for Hellbound Media
directed by Alex Bourne
starring Hannah Douglas, Dani Tonks, Richard Buck, Philip John Bailey, Abigail Wisdom, Leah Solmaz, Thomas Loone, Chloe Rose Fisher, Richard Hobday, Matt Allen, Deborah McEwan, Jack Gunner, Dani Thompson, Nigel Buckley, Kiah Reeves, Alex Bourne, Finley Baker, Theo Cane Garvey, Laura Sian Dixon, Jack Strange, Luke Junior, Jon Vangdal Aamaas, Mark Adams, Lesbian Death Bed (= Dan Peach, Sienna Venom, John Caci, Aaron Samedi), Thomas Keetley, Ryan Berry
written by Alex Bourne, music by Hans Michael Anselmo Hess, songs by Lesbian Death Bed, special makeup effects by Steve Bosworth, Gary Hunt, Clownface mask by Bourne Effective

review by
Mike Haberfelner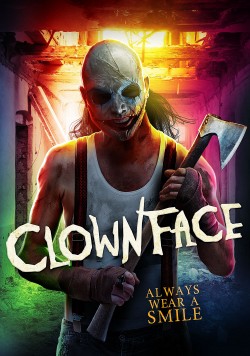 It has been a year since Jenna (Hannah Douglas) found the brutally butchered body of her roommate Zoe's (Dani Tonks) boyfriend Rick (Thomas Loone) in their apartment, with Zoe gone and presumed dead, and only gradually has her life gone back to somewhat resembling normalcy, also thanks to her best friend Amy (Abigail Wisdom), who has got her a job as barmaid at her parents pub. But Jenna's constantly reminded of the past, by people like Charlotte (Leah Solmaz), a friend of Zoe's making her responsible for Zoe's death, and conspiracy theorist Owen (Richard Buck), who insists Zoe's still alive and held captive somewhere. Obviously, Zoe could do without all of this.
That all said, the killer of Rick, the grotesquely masked Clownface (Philip John Bailey) is still out there, and is indeed holding Zoe captive as his plaything - and Zoe hasn't given up on trying to escape, but to no avail.
To get Jenna's mind off things, Amy takes her to a party, and things go really well, especially when Charlotte shows up as well to apologize to Jenna for all the things she has said - and then Clownface shows up, slaughters most of the guests, and takes Jenna captive - and now Owen is her only hope. Thing is, Owen isn't exactly a man of action, and Clownface seems to have superhuman strength ...
At its heart, Clownface is of course a slasher movie, and it follows the formula rather closely, down to a grotesquely masked villain with almost superhuman strength, jump scares aplenty and gory killings. However, what sets this one apart from the pack is that it's more character-driven than your usual genre fare, focuses on Jenna's attempt to overcome grief, giving the film a heart not necessarily associated with the slasher genre. And thanks to a directorial effort that finds the right balance between intimacy and violence and a solid cast that grounds the movie this is one fine genre ride.