Hot Picks

Cold Moon


USA 2016
produced by
Griff Furst, Isaiah LaBorde, Stephen Furst, Arthur Scanlan (executive), Lee C. Rogers (executive), Ross Hebert (executive), Miguel Sandoval (executive), Smokey Scanlan (executive), Tonya Bellamy (executive) for Curmudgeon Films, Highland Film Group, ALLaborde Productions
directed by Griff Furst
starring Josh Stewart, Candy Clark, Robbie Kay, Frank Whaley, Christopher Lloyd, Rachele Brooke Smith, Chester Rushing, Sara Catherine Bellamy, Joe Chrest, Laura Cayouette, Marcus Lyle Brown, Michael Papajohn, Jaiden Kaine, Carol Sutton, Madison Wolfe, James Moses Black, Jake Chiasson, Emerson Rhinewalt, Abram Furst, Stephanie Honoré, Isaiah LaBorde, Billy Slaughter, Han Soto, Michelle DeVito, Ryan Carlos Castro, Tommy Wiseau
screenplay by Michael McDowell, Jack Snyder, Griff Furst, based on the novel Cold Moon Over Babylon by Michael McDowell, music by Nathan Furst

review by
Mike Haberfelner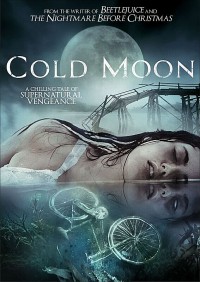 When young Margaret Larkin (Sara Catherine Bellamy) goes missing and is later found dead in the river, tied to her bicycle, it crushes the world of her brother Jerry (Chester Rushing) and especially her grandmother Evelyn (Candy Clark), who has raised her in her mother's stead. Grandma is sure who has done it, even if she hasn't got an ounce of evidence, Nathan Redfield (Josh Stewart), the local banker who refuses to give the Larkins another loan on their land, pretty much trying to drive the Larkins off their farm which has been their livelyhood. Thing is, the sheriff (Frank Whaley) is less than certain that Evelyn's right, and he thinks whoever impregnated Margaret must be the culprit - but nobody even knew she was pregnant. The thing is, both Evelyn and the sheriff are right, as Nathan has indeed had sex with Margaret and now wanted to get rid of the outcome. But now that he hears Evelyn suspects him and has hired an out-of-town lawyer (Jaiden Kaine) to try to pin it on him, he decides to get rid of her and Jerry as well. So, with the help of his kid brother (Robbie Kay), who's less than thrilled about this, he slaughters them in a particularly gruesome way and then drops them into the river, not far from the spot where Margaret had been killed. The police of course cannot find a clue leading to him, especially after he plants evidence on someone else (Marcus Lyle Brown), who's then arrested for the crime. So it's up to the spirit of Margaret to have her revenge by slowly driving Nathan crazy ...
Everybody's favourite Christopher Lloyd plays Nathan's wheelchair-bound father.
Cold Moon is quite a clever little ghost story that on one hand plays with genre tropes, but on the other manages to surprise the audience with unexpected plot twists every now and again, most remarkably when Jerry and Evelyn, who have been introduced as the protagonists of the film, are killed about halfway through, by a character one would probably not have suspected until that point in the movie. Plus, the film's many scare scenes are quite creepy, actually, without being too obvious, and the story really gets more tense by the minute.
Definitely worth a watch!