Hot Picks

Colourblind


Australia 2018
produced by
NHProductions
directed by Nathan Hill
starring Nathan Hill, Anne Gauthier, Jane Badler, Nicholas Wightman, Celeste Wilson, Mardi Edge, Ian Rooney, Jake Ryan, Michael Siu, Thomas Morris, David Macrae, Priscilla Catania, Marty Rhone, Paul Moder, Frederique Fouche, Leslie Lawrence, Tom Liddy, Deanna Ortuso, Sean Naismith, Jessica Borg, Emma Shen, Marietta Sabello, Sheena Yuasa, Rachael La Rosa, Jurgis Maleckas, Lachlan Powell, Tramy Tran, Vicky Tran, Bianca Allaine
written by Nathan Hill, music by Gerard Mack

review by
Mike Haberfelner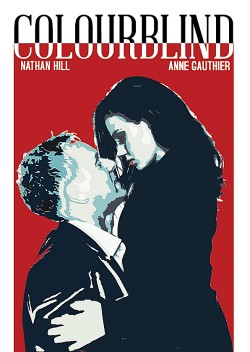 Jaffy (Nathan Hill) is a private eye who has been wanting to ditch his job for quite some time now, but his boss (Ian Rooney) lures him back in, promising good money for "one last job": Trix Baxter (Celeste Wilson), daughter from a rich family, hires him to follow her sister Sia (Anne Gauthier), whom she describes as a "living time bomb", without giving Jaffy any details though. Following her, Jaffy notices something remarkable though, that she makes him, colourblind by nature, see the full spectrum of colours for the very first time. So eventually, he doesn't just follow her but chats her up, asks her out for a drink ... and somehow the two become a couple even.
Meanwhile, Sia's mother (Jane Badler) is also concerned about her daughter, if for different reasons, and she sends Mr X (Nicholas Wightman), a former partner and friend of Jaffy's, after her - and X sees it due to report to her that Sia and Jaffy are dating, something that doesn't sit well with Mrs Baxter.
Jaffy is somehow driven by guilt to tell Sia who he is and that she was originally his "job" ... and the next day Sia's gone, and Jaffy's beaten up bad by a guy (Jake Ryan) sent by her mother - and however hard Jaffy tries to turn things around, it seems he's just paying the bill for doing "one last job" ...
Storywise, Colourblind is rather reminiscent of classic film noirs, and especially The Big Sleep readily comes to mind (without this film ever feeling like a copycat), but stylistically it's very much seated in the here and now, combining a fluid direction with a pace that's very much in tune with the tastes of today's audiences (without relying on staccato editing), and while the very jazzy score might seem as a reminder of yesteryear, it's pretty cool and fittingly moody music to. And add to that a cast uniformly up to the task, and you've got a very solid and enjoyable movie!