Hot Picks

The Condo


USA 2015
produced by
Baron Jay, Michael Joseph (executive), James Cullen Bressack (co-executive) for Baron Jay Entertainment
directed by James Cullen Bressack
starring Baron Jay, Trae Ireland, Michael Joseph, Chris Sapone, Tracy "Stresh" Mcnulty, Viet Wilcots, Aria London, Alen Matters, Jackie Moore, Aizhan Lighg, Johanna Rae, Toktam Aboozary, Joe Karam, Cody Coman, Lavinia Iskandar Salim, Olivia Stiefel (as Olivia Rush), Monica Davis, Fawn Stone, Deanna Dylan Scott, Tamani S. Elliott, David Brown, James Cullen Bressack, Chase Jonathan Azimi, Jamal Doman, Alex Demkin, Kamila Talpa, Harry Elmayan, Glenn Fisher, Derek A. Coleman, Jason Stelzel, Elisa Johnson, Jesse Crow
written by Bill Dumas, Bill Morroni, music by David Bateman

review by
Mike Haberfelner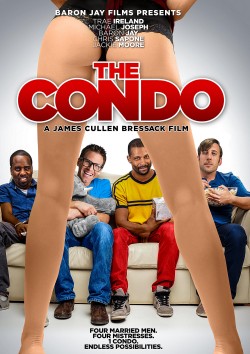 Duke (Baron Jay) is a realtor who isn't exactly struck by success when trying to sell a mansion where a murder happened - so he and his poker pals, all married, have the idea about renting the place themselves to have a place to bring their affairs to. And in fact, it even gives most of them to have affairs in the first place: Duke himself meets lovely Tuesday (Jacke Moore), who might be a bit on the schizophrenic side with one of her personas being a white supremacist, Tom (Michael Joseph) would have never thought of cheating on his wife (Monica Davis), but there's opportunity, and there are these two lovely girls (Aria London, Johanna Rae) at his beauty salon who fall for his lie about the death of his wife hook, line and sinker. Ron D (Trae Ireland) has been seeing Natalia (Toktam Aboozary) for quite some time now before realizing her brother Jamaal (Joe Karam) might be interested in stoning him for defiling his sister. And then there's gay Juan (Chris Sapone), who starts seeing women behind his husband Robert's (Alen Matters) back. Until he falls for Robert in drag that is ...
Anyways, it's not long before things get confusing in the combo as it is, and eventually the guys' wives find out and (independently from one another) make up schemes to get back at their husbands ...
Obviously taking its cues from classic Hollywood comedies like The Apartment and Boeing Boeing at least on a narrative level, this film nevertheless comes across as very fresh thanks to a cleverly written script, colourful characters and fun situations - things that just make a good comedy but are often forgotten in today's cinema, both mainstream and indie. Now add to that a very solid directorial effort that gives the comedy room to breathe on its own, and a likeable ensemble cast, and you've just got yourself a pretty cool and very entertaining movie.