Hot Picks

The Covenant


USA 2016
produced by
Robert Conway, Justin L. Anderson for FunHouse Features
directed by Robert Conway
starring Monica Engesser, Owen Conway, Clint James, Sanford Gibbons, Maria Olsen, Shawn Saavedra, Richard Lippert, Amelia Haberman, Chris Mascarelli, Laura Durant, Liz Manning, Sedona Feretto, Susan Rienzo, Greg Lutz, Cat Hartmann, Dan Weisgerber, Thomasina Daniels, Cindy Sullivan, Jason Mar, Robert Donorfio, Alan Gagne, Molly Cornwell, Heather Olson
written by Robert Conway, Owen Conway, Christopher R. Smith, music by Gian Marco Castro, special effects by Cat Bernier

review by
Mike Haberfelner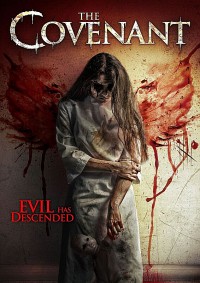 A year ago, Sarah (Monica Engesser) has lost her daughter Elizabeth (Amelia Haberman), who was suffering from terminal leukemia, because she drowned in the bath tub, upon which Sarah's husband (Chris Mascarelli) blew his brains out, but not before accusing Sarah of having killed Elizabeth. Sarah hasn't gotten over it since, but now her brother Richard (Owen Conway), who has only just won a battle with alcoholism, has decided to take care of her, and thus the two move into their (deceased) parents' home for a try at normalcy. But Sarah doesn't manage to get over it just because she wants to, she soon starts to see Elizabeth every now and again, and even that's impossible, she doesn't believe Richard's explanation to the contrary. Soon, she starts to freak out the neighbours, too, and a priest (Sanford Gibbons) Richard calls upon only suggests an exorcism. Also, Sarah starts to cut herself - deeply - but her wounds heal with inhuman speed. Richard tries his best to handle everything thrown at him, but he soon feels like a fish out of water, and a mysterious man in black (Richard Lippert) giving him weird advice and freaking him out isn't exactly helping, nor is the fact that he starts to believe that Sarah has actually drowned Elizabeth on purpose. And of course, he eventually starts to drink again, and somehow (and rather by the use of magic) Sarah tricks him into having sex with her, upon which she gets pregnant, a pregnancy that she goes through with rapid speed - and that at last is too much for Richard, and he calls upon an exorcist (Clint James) - but can even he help, or is it much too late already?
Genre fave Maria Olsen plays a bible-thumping neighbour who meets a particularly grisly end!
The Covenant is a rather ingenious piece of horror, as it leaves its audience guessing for the longest time while never dropping its narrative and at the same time taking its time to properly build up the story and let the suspense build up the slow-burn way, up to a no-holds-barred finale. A very restrained directorial effort helps a lot here, as do solid performances - and all this results in a really nice, really creepy horror movie!