Hot Picks

Crawford Road


USA 2018
produced by
Gordon Price, James Person for Chapter 11 Films
directed by Gordon Price, James Person
starring Gordon Price, Ricky D'Alonzio, Billy Cobb, Elysa Kirby, Jeff Hunt, Hailey Dollar, James Shiels, Rich Burke, William Cooper, Jenna Lucky, Brandon Blackman, Trent Boullianne, James Person, Molly Wicks, Stuart Smith, Joe Anderson, Summer Dawn Marangill, Jennifer K. Jones, Anthony Steel, Obediah Brooks, Bryce Thompson, Bethany Brooks, Wendy Waterman Crosswell, Candace Lavee, Alie Thomas-Willworth, Charlie King, Jarod Day, Walter Smith jr, George Plank, Lisa Michelle Coffey, Mike Spencer, Desiree Harvey, Richard Ross, Richard Prescott, Mike Swain, Alex Michalos, A.J Cook, Herb Banks, Jay Glen
written by Gordon Price, James Person, music by Skyler Cartwright, Mark Alwine

review by
Mike Haberfelner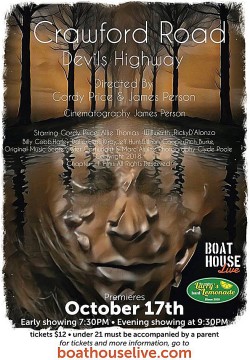 Ever since the time of the Civil War, the area of Crawford Road and Colonial Parkway in Yorktown, Virginia, was what you might call a murder hotspot. It started with a brutal slave catcher (Gordon Price) murdering the mixed-race baby of his wife (Alie Thomas-Willworth), then being murdered by her who then hangs herself in her wedding gown.
Nowadays, Crawford Road has become the subject of the Murder Group, a meeting group full of amateur sleuths, and their guest speaker is Detective Young (Ricky D'Alonzio), who relays to them the result of the investigation of the most recent murders, and how all the older cases might fit in - and his story begins with Vlad (Gordon Price), a violent Slovenian drugrunner who's also the sole survivor of a car accident on Crawford Road, and who after the fact wanders through the woods to hide the stash of heroin he and his accomplices had just stolen from a rival gang. But the forest sure is haunted by the ghosts of those who died there, and they sure do a number on Cyrus, enough that he starts to think about finding Jesus with Father Jenkins (Billy Cobb), a local. But Cyrus soon comes on the radar of detectives Young, Jackson (Jeff Hunt) and Shade (Elysa Kirby), and the latter soon becomes convinced that it was him who killed her sister in the area all those years ago. Cyrus though isn't one to go to prison for a crime he might not even have committed, Jesus or not, and things soon come to a head ...
From a structural point of view, Crawford Road might be at times a bit confusing, but at the same time it's also a very fascinating puzzle that comes up with a very unexpected resolution. Plus, the film manages to tick all the boxes, it's violent when needed, suspenseful, spooky, and even quite humourous at times. And the result might be a bit of a patchwork, but a very enterntaining one indeed.