Hot Picks

Cute Little Buggers


UK 2016
produced by
Tony Jopia, Kristofer Dayne, Romain Barbey (executive), Carl Julien (executive), Fabien Muller (executive), Joao Miguel Talone (executive), Richard Strattan (executive), Joy Abisaab (executive), Jeremy Stephens (executive), Andrij Evans (executive) for Tirana Films, Great Dayne Entertainment, Brain Monkey, The Film and TV Company
directed by Tony Jopia
starring Caroline Munro, Gary Martin, Kristofer Dayne, John R. Walker, Sara Dee, Lydie Misiek, Samar Sarila, Eryl Lloyd Parry, Tim Hope, Carlos Paginton, Jonathon De Hadleigh, Lesley Scoble, Honey Holmes (as Angela Holmes), Ethan Scott, Elle Burnham, Lorraine Ansell, Rodrigo Peñalosa, Roberta Whitney, Lee Ravitz, Stu Jopia, Liam W. Ashcroft, Dani Thompson, Ricky Johnston, Benji Ming, Dan Abrams, Steve Aaron-Sipple, David G. Robinson, Dan Gough, Sarah Bennett, Mark Johnston, Rosie Pearson, Will Guppy, Rebecca Silverstein, Philippa Holmes (voice), Tom Sword, Sam Davies (voice), Keith Fraser, Dean Mitchell, Paul Aitken, Camilla Rowland, Mandy Lalley, Andy Davie, Johnny Shingleton, Fabien Muller, Romain Barbey, Ginny Graham, Stuart W. Bedford, Zara Frost, Daniel Moore
story by Tony Jopia, Andy Davie, screenplay by Garry Charles, Andy Davie, music by John Roome, songs by Sara Dee & Martin Pavey,  special effects makeup by Trish Pender, Neil Stevens, visual effects by Andrij Evans, Wojciech Chylinski/CG Folks, John Hammond/Stars and Heroes, Matt Walsh, Raed Abbas/Abbas Films and Games

review by
Mike Haberfelner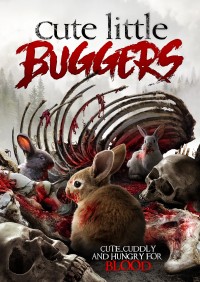 Melchior (Kristofer Dayne) has returned to his hometown in rural England to bring his estranged father (Tim Hope) the news of the death of his mother, but there's no love lost between these two men. And it's actually not as if anyone would give a shit about Melchior returning home, all but Rose (Lydie Misiek), his sweetheart from back when they were teens - and there's still some chemistry behind them, but she's engaged to the local show-off Charles (Samar Sarila), who has never been a friend of Melchior, and now tries to really rub it in big time. Meanwhile, local police constable James (John R. Walker) stumbles upon a horribly mutilated body in the woods, but his superior (David G. Robinson) insists it was nothing but an accident - against better knowledge of course, but there's a big festival in town today, something that takes absolutely precedence over anything else. He should have listened to his constable though, as above murder was actually part of an operation by two rather incompetent aliens (Dan Abrams, Steve Aaron-Sipple) to abduct earth women and in a local shed impregnate them with alien spawn. And to that end, they have infiltrated the area with genetically engineered cute bunnies who they have turned into ravenous beasts. And of course it's not long before Rose is abducted by the bunnies, like most of the town's female population, and now it's up to Melchior and company to save the day - and the only weapon they have on their hands is human urine which the killer bunnies are apparently allergic to ...
Horror fan fave Caroline Munro plays a fortune teller while veteran British TV and voice-over actor Gary Martin can be seen a s a washed up rock star.
Well, you might have guessed it from my review, Cute Little Buggers is not exactly the most subtle of films when it comes to humour, and the film also features a few too many narrative threads to remain fully coherent - but it's just really damned funny in a party flick sort of way: The death scenes sure are gruesome but so over-the-top they can't be taken wholly seriously, some of the dialogue is so (intentionally) clichéed and campy it's nothing short of hilarious, the cute killer bunnies are a hoot all by themselves, narratively the story gets wilder and more out of control with every twist, and quite a bit of topless nudity will keep even the most drunk on one's mates watching.
So no, it's no masterpiece, but yes, it's lots of fun, and ought to be watched with a beer or three.