Hot Picks

The Dark Within


UK 2019
produced by
Lorraine Keith, Stephen Durham, David Dittlinger, HemDee Kiwanuka, Mary Ann Barnes, Niko Foster (executive) for Chasing Butterflies Pictures, Clear Focus Movies, 2nd Nature Films
directed by David Ryan Keith
starring Paul Flannery, Kendra Carelli, Stephanie Lynn Styles, Niko Foster, Mark Wood, Olivia Murray, Caleb Miller, Lisa Cameron, Liam Matheson, Harry Willis Fleming, HemDee Kiwanuka, Gavin Park, Rory Cox, Noel Vassallo, Mathew Kirkland, Kristofer Barenurg
written by David Ryan Keith, Paul Flannery, music by Niall Mathewson, special effects makeup by Hayley Tinline, visual effects by Martin Fernandez, creature design by Immortal Masks, Global Fear Enterprises

review by
Mike Haberfelner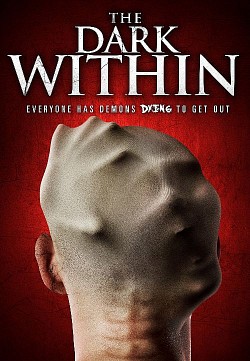 When he was a child, his dad (Niko Foster) let little Marcus (Caleb Miller) accompany him to his secret lab where he conducted all sorts of crazy experiments in the field of ESP - and he would never let Marcus know that he was actually part of the experiments, being a very strong psychic.
Now, Marcus (as an adult played by Paul Flannery) is pretty much a nervous wreck, suffering from a whole range of physical and psychological ailments from nervous headaches to hallucinations - which is why he sees a psychiatrist, Dr. Norton (Stephanie Lynn Styles), but there's really very little she can do other than change his medication every few weeks with the same poor results. Then though she suggests to Marcus to spend some time at his parents' home in the country as she figures their disappearance when he was a child might have triggered Marcus's current state.
Once at the house though, his ESP powers go into overdrive and let him "find" all sorts of things - and with his findings, Marcus is trying to piece together the truth about his childhood, and it's not pretty, as it seems that his father's experiment led to him being a potential gateway for a being from another world/dimension/the underworld, and even if dad has eventually broken off the experiments, destroyed all of his finding, and abandoned Marcus just to save him, Marcus's mere presence at the house might trigger whatever it is to make an attempt to enter our world through him.
Marcus's girlfriend Sarah (Kendra Carelli) stops by his house, and for a time that has a calming effect on Marcus - until he grows more and more suspicious that something's not right with her, that she's a hallucination, a demon, a whatever - and eventually he stabs her. And this is where things really go weird - and dangerously so ...
The Dark Within is not for those who like to be spoonfed their horror, it's really a movie that twists and turns, shifts its own reality (and laws of nature) ever so often, refuses to follow an internal logic, and never sees the necessity to give explanations for its on-screen goings-on - and all of this works totally for the movie rather than against it, as it keeps the audience at the edges of their seats throughout, keeps them guessing in a good way, and keeps them falling into the film's world were nothing is certain. This is of course achieved by clever writing and a direction that's really complimenting the script's effort to often lead the audience on false clues and that's heavy on atmosphere. And of course a solid cast doesn't hurt one bit either to make thisa very enjoyable and rather unusual genre effort.