Hot Picks

- Nox 2019
Daughter


Australia 2016
produced by
Ivan Malekin, Tom Liddy (executive), Dinushi Dias (co), Sarah Jayne (co) for Nexus Production Group
directed by Sarah Jayne
starring Katherine Langford, Tara Jakszewicz (as Aisha Jakszewicz), Carolyn Rey, Senie Priti, Julia Vogl, Suzie Whyte, Laura Vine, Ben Rose, Robyn Duse, Tom Vogel, Ben Chisholm, Nathan Luke, Erin Connor, Davide Mollica
written by Sarah Jayne, songs by Malo Zima, Back Back Forward Back, Woodes x Eilkkle, Vast Hill, Leure, Martha Bean, John Dix


short

review by
Mike Haberfelner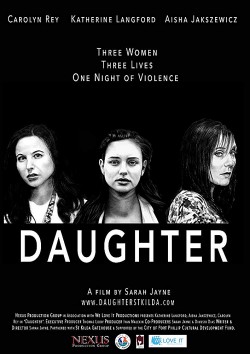 On first sight, these three women have nothing in common, there's Scarlett (Katherine Langford), who's celebrating her 19th birthday with her very best friends and a bit too much alcohol, also to forget her dire situation at home, then there's Alethea (Carolyn Rey), who goes out with her best friends on her hen night, and finally there's Jemma (Tara Jakszewicz), a woman who has seen too much in life and still tries to make good, even if that means working as a prostitute walking the streets, relying on the one friend, Richard (Ben Rose), who hasn't given up on her and provides her with protection, food, and the occasional drugs. And this particular night, the three woman just roam the same area, which is nothing but coincidence, and bump into each other without consequence. But one of them won't survive the night, which gives the other two, meeting at the scene of the crime rather by coincidence, something to think about, because the victim could very much have been them as they walked by the place that night - and to take things a little further, all three could just be one and the same person at different stages in her life ...
The last line of above synopsis is admittedly my own interpretation of things rather than that it literally happens in the movie, but that's also the strength of Daughter, that it tells a compelling story without spelling out every last letter, that it lets the audience think on its own - which is of course helped by clever storytelling that expertly weaves the three narrative threads into one another, a subtle directorial effort and a solid cast.
A very interesting movie indeed!