Hot Picks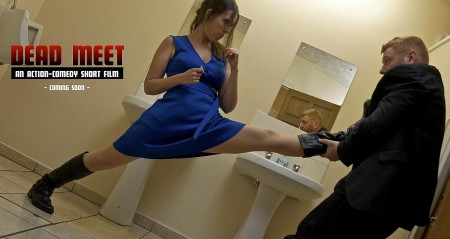 Cleo (Francesca Louise White) is going on her first date with a guy she only knows from the internet, Ryan (Reuben Williams) - which is of course a nice thing. But it's also a big problem, as she's a professional assassin, so her job and the secrecy that comes with it have made her socially a bit awkward, and while on the date, she has to perform a hit, taking out Anderson (Dean Williams), who just happens to be in the same bar as she is. Shouldn't be a problem in theory, she just ought to cut his throat on the toilet then lure Ryan away to a Thai restaurant - but then Anderson doesn't prove that easy to kill, Ryan's not all that into Thai, and then it even turns out Anderson has friends in the bar, and the friends have guns ...
Above all else, Dead Meet is just really good fun, as it brings its slightly silly (but intentionally so) premise to the screen in a lively manner that combines suitably snappy dialogue with rather explosive, stylized action and that really manages to tell its story in a refreshing way that keeps one guessing every now and again. And of course, a very solid cast that plays it straight to bring the situation's inherent humour to full bloom doesn't hurt one bit either.
As mentioned, fun, really!
And if this has gotten you at all interested, you might want to watch the movie here, too: https://www.youtube.com/watch?v=9Bc9LeRKdFs&t=5s