Hot Picks

- Joe 2018
In Fondo al Bosco

Deep in the Wood


Italy 2015
produced by
Manuela Cacciamani, Andrea Nocetti, Giovanna Arata, Nils Hartmann (executive), Roberto Amoroso (executive), Sonia Rovai (executive) for Sky, One More Pictures, Trentino Film Commission
directed by Stefano Lodovichi
starring Filippo Nigro, Camilla Filippi, Giovanni Vettorazzo, Teo Achille Caprio, Stefano Pietro Detassis, Maria Vittoria Barrella, Roberto Gudese, Luca Filippi, Andrea Brunello, Uber. Beatrice, Alessandro Corabi, Luca Di Giovanni, Ermanno De Biagi, Antonella Arseni, Gaetano di Vaio, Roberta Barbiero, Rocco Rampino, Claudio Colavecchia, Simon Pliger
written by Isabella Aguilar, Stefano Lodovichi, Davide Orsini, music by Riccardo Amorese

review by
Mike Haberfelner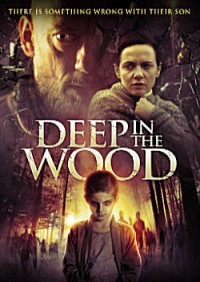 Krampus-fest in a small village in the Dolomites, Italy: Little Tommi (Alessandro Corabi) is so scared by the Satanic masks of the Krampus dancers that he tries to urge his dad Manuel (Filippo Nigro) to leave with him, but when he, slightly inebriated, refuses, he just darts off on his own ... and isn't seen again, despite the best efforts of the police and locals to track him down. Soon, Manuel is suspected for having killed his son, and even arrested for it, but as no evidence at all is found corroborating these accusations, he's set free again - with his reputation forever shattered. Meanwhile, Tommi's mum Linda (Camilla Filippi), having never been the stablest, tried to kill herself and the like. They remain together though, even if Linda has an affair, and doesn't put much efforts into concealing it even.
5 years later: A feral kid (Teo Achille Caprio) is found near the village, and he does somehow resemble Tommi ... but since it's hard to be sure whether he is him after that long a time, a DNA test is performed - and proves his identity without doubt. Manuel, who has been riddled by guilt all these years - he may not have killed the boy but he was his responsibility then and there - is over the moon and tries to do his best to make up for everything and at least now give him a normal childhood ... but Linda is less than happy about having her boy back, to the point that she denies the fact that Tommi even is Tommi - and Tommi sure acts strange, sometimes close to violent, and at one time slits a dog's throat just because he has barked at him. What doesn't make it easier for Manuel and Tommi is the fact that many in the village, first and foremost her father (Giovanni Vettorazzo) do share Linda's doubts. And fact is, there's a dark secret in town that has to do with Tommi and that only Manuel seems blind to ...
Now true, Deep in the Wood takes quite a bit to kick into gear, and in the first half tries a bit too hard to drive its point home - but one would be hard-pressed to not admit that the finale makes more than up for it, a finale that turns the whole story topsy-turvey and succeeds in surprising everyone without making too conscious an effort or coming across as pulled out of a hat or moronic - quite the contrary, the ending makes much more sense than what the film made us believe it's working towards. Plus, the whole movie's very well-played and atmospherically directed, making the best of its Dolomite-locations, and thus totally worth a watch!