Hot Picks

Deviant Behavior


USA 2017
produced by
Sal Hernandez (executive) for STX Media
directed by Jacob Grim
starring Eric Rodrigue, Alex Heatherley, Tania Monroy, L.G. Koruptore, Hendrik James, John Dugan, Pablo Schmitt, Ed Guinn, Bonnie Ann Coronado, Buddy Smith, John Gonzalez, Laura Schmitt, Patrick Chabera, Hannah Valadez, Lisa McGrew, Mario Aguilar, Hannah Keller, Taylor Tolleson, Skeeter Ullman, Aiden Xander Cox, Jason McCahan, Taylor Goldman, Kidd Garcia, Jake Gonzales
written by Sal Hernandez, music by Eric Rodrigue

review by
Mike Haberfelner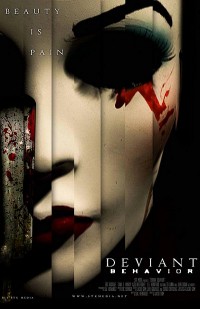 Charlie Reese (Eric Rodrigue) is an alcoholic ex-cop who has been dismissed from the force dishonourably and is pretty much down on his luck when he's offered a lot of money to find a girl, Carrie (Hannah Valadez), because despite his flaws, there's one thing Charlie's really good at, and that's finding people. Charlie soon picks up a trail, too, that leads to a supressed story about some prostitutes that have gone missing, which gives Charlie and excuse to get his ex-turned-prostitute Roxy (Tania Monroy) off the street to help him in the case.
For a time, everything looks really good, as Charlie and Roxy managed to put their finger on the right suspect, Walter (Alex Heatherley), a doctor by day who, together with his partner, Hunny (L.G. Koruptore), a big invariably masked woman, has taken to kidnapping beautiful women and then torturing, killing and dismembering them in front of a camera - though these are facts that Charlie and Roxy don't know in all detail yet when they have a massive fall-out and then Roxy somehow gets herself abducted by Walter. Once Charlie realizes that, he charges to the rescue - but might have walked right into a well-set trap ...
Basically, Deviant Behavior is an enjoyably mean movie that manages to include enough cruelty and violence in all the right places to keep one on the edge of one's seat while at the same time relying suitably heavily on suspense to tell it's rather engaging story carried by likeably flawed characters.
True, the mean bits of the movie aren't for everyone, but if a bit of gruesomeness is something you enjoy with a proper story attached, then this one is definitely for you.