Hot Picks

Dirty Books


USA 2016
produced by
Matt Rindini, Christina Dunlop (consulting) for Fitch Fort Films
directed by Zachary Lapierre
starring Noah Bailey, Ansley Berg, Timothy J. Cox, Isaiah Lapierre, Neva Newcombe, Chester Hardina-Blanchette, Michaela Lindsey
written by Ian Everhart, Zachary Lapierre, music by Beach Toys, Beware the Dangers of a Ghost Scorpion!, Car Seat Headrest, Jungle Green


short

review by
Mike Haberfelner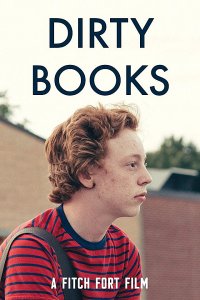 David (Noah Bailey) is devastated after his high school's principal (Timothy J. Cox) wants to turn his high school newspaper into a blog to go with the times. But despite being an high school kid, David sees himself as an old school journalist and insists on the "Gazette" (that's the name of the newspaper) remaining a print magazine - no can do says the principal, but David figures if he can just make the Gazette more interesting, that might solve the problem ... and here's the rub, nothing's happening at his school, like - nothing at all. But David isn't one to give up, so he tries to get some dirt from his informer Owens (Isaiah Lapierre) - but even Owens is out of material and jokingly suggests that if he wants news, he has to make them up ... which David takes very seriously indeed ...
The next day, in several books in the school library some pages are replaced with porn pics - and since David was behind this, the Gazette is the first to report it, which of course gives the paper a big boost. Encouraged by this, David plays more and more pranks in school (without ever getting caught), only for the Gazette to report about it first and thus remain relevant. But with time, he gets too cocky about this, making it as much about himself as about the Gazette, and when he snubs the sports journalist of the Gazette (Ansley Berg), the one person who tries to help him save his paper, a few times too often, he and not only his paper is up for big trouble ...
Fun little cross between high school comedy and newsroom drama with the typical "we have to save our ..."-gist to it, but a likeable unorthodox approach to the rather familiar premise, and and ending that welcomely defies genre expectations and this way isn't only more entertaining than the usual fare but also a whole deal more original. And add to this a light-footed directorial effort and a solid cast, and you've got yourself a really fun short.