Hot Picks

- X 2019
Disregard the Vampire - A Mike Messier Documentary


USA 2016
directed by Mike Messier
starring Mike Messier, Kaitlyn Ciampa, Raeshelle Cooke, Mary Kelliher DeBerry, Carl Dupré, Court Fisk, Jose Guns Alves, Loraine Craig Lesniak, Geena Matuson, Scorpió, Shevon "Muffin" Young
written by Mike Messier, music by Tony Caramadre


documentary

review by
Mike Haberfelner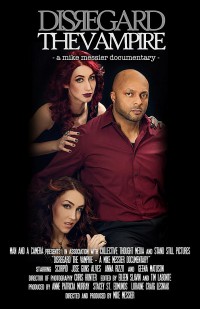 In 2014, director Mike Messier started work on a film then called Disregard the Vampire - a film that was only one of the many projects Messier started with hopes of being able to finish but that hasn't crossed the finish line yet due to many reasons, including of course funds, and that has since evolved into the feature film project Distance from Avalon. But while Disregard the Vampire might never see the light of day in the way originally intended, this here documentary, in which Messier interviews many of his collaborators on the film who are often quite honest and are not just sugarcoating it for Messier's sake, is a sort of meditation about indie filmmaking in general and many of its ups and downs, and Messier's way of doing things in particular - which he admits is at times quite a bit chaotic ...
There are two things that make this documentary such a winner, and these are its honesty but also its enthusiasm for its subject matter, and the same thing can be said about the director (and subject) of the movie, Mike Messier, as well, as he freely talks about the many setbacks of his filmmaking career (not only but also when working on Disregard the Vampire), including his own shortcomings, but when he talks about his projects per se, his enthusiasm is nothing short of palpable, and the out-of-the-box ideas he tends to have make one wish he gets them all done one day or another!
A documentary that's totally worth a watch for everybody who's into indie movies ... and if you're not, who knows, you might have found a new hobby after watching this.
And of course, feel free to see a preview of the movie here: https://vimeo.com/168549270