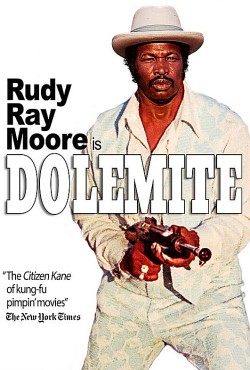 Dolemite (Rudy Ray Moore), the slickest pimp in town, has been sent to the slammer for 20 years, but Queen Bee (Lady Reed), who runs his whorehouse in his absence, gets him out on one condition: He works for the FBI and brings down his associate Willie Green (D'Urville Martin) - which Dolemite agrees to when he learns that Green had his nephew killed and has taken over his night club. And now, with all the coolness he can muster, and his karate-trained prostitutes by his side, Dolemite tries to take back what's rightfully his - but it's not just Willie Green and his cronies he has to go up against, but also a couple of corrupt FBI agents who are only waiting for a chance to shoot him dead in the line of duty and who jail him repeatedly, and eventually Dolemite has to learn the web of corruption and betrayal goes up to the very mayor of town (Hy Pyke), who has been campaigning on his honesty and his efforts for the black community. So it might just be that Dolemite has taken a bite too big to swallow ...
Rudy Ray Moore was a very gifted comedian, as is witnessed on his records - some of which do feature the character Dolemite -, and in this here movie, he does give a few samples of his material, which are hilarious. The film Dolemite as a whole though is no masterpiece and does not live up to his comedy albums - basically because it's neither clever nor funny enough to really set itself apart from other blaxploitation movies from the era. But that said, fans of the blaxploitation genre will still love this one, and justifiably so: Its uber-cool hero who goes through too many costume changes to even count, with one being more outrageous than the other, its comicbook-like story and approach to violence, its "sticking it to the man"-attitude and its general grittiness all make this a great (if not unique) proponent of the genre that hits all the right chords on the nostalgia organ and is thus not to be missed!
Got you interested? A brand-new high-def version will hit VOD on July 3rd, 2018, courtesy of Xenon Pictures.