Hot Picks

Dreaming Purple Neon


USA 2016
produced by
Todd Sheets for Extreme Entertainment
directed by Todd Sheets
starring Jeremy Edwards, Eli DeGeer, Grant Conrad, Millie Milan, Ricky Farr, Antwoine Steele, Nick Randol, Jolene Loftin, Ana Plumberg, Jack McCord, Daniel Bell, Stacy Weible, Jodie Nelles Smith, Dilynn Fawn Harvey, Glen Tee, Rachel Lagen, Mike Gordon, Eve Smith, Carol Adams, Brandon Grossheim, Tom Berg, Dave Edwards, Michael Adams, Steven Wallace, Ella Reign, Jenna Lee McCarty, Logan Carlin, Mykah Mleek, Shalyn Blain Lillard, Kari Moulder, Steve Hoffine, Colin Prouse, Travis Porter, J Purkaple, Kelsey Roberts, Scott Simmons, Alexander Brotherton, Jonna Sowders, Douglas Epps, Sheila Brandon Allen, Jacki Butler, Brian Shadensack, Jessica Orne Holroyd, Joel D. Wynkoop, Jerry Angell, Verona Fink, Kayla Mitchell, Bradley Beeghley, Misty Carey
written by Todd Sheets, music by Toshiyuki Hiraoka, special makeup effects by Jacki Butler, Marvin Blake, Michael Wulf, Stacy Weible, visual effects by Tony Masiello, Todd Sheets

review by
Mike Haberfelner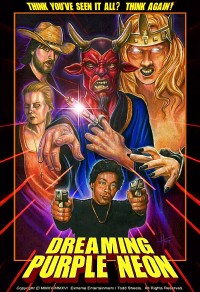 Rather out of the blue, Cat (Millie Milan) is asked by her boss Tyrone (Ricky Farr) to help him cover up a murder he has just committed in his office - but once he's gone she does the right thing and snatches the murder weapons and her boss's secret stash of drugs (the titular purple neon) to hand everything over to the police as evidence. But she decides to ask her friend Denise (Eli DeGeer) for some moral support, so stops by the dental clinic to pick her up.
Dallas (Jeremy Edwards) has been a drifter for years, and all this time he was never able to forget his one true love, Denise. So once back in town, he decides to at least pay her a visit at the dental clinic she works at, and he brings his buddy Chris for moral support.
... so the situation at the dental clinic gets a little tense and confusing, especially when Tyrone and his right hand man Ray Ray (Antwoine Steele) show up as well, demanding the weapons and drugs to be returned. And Tyrone and Ray Ray do have nervous trigger fingers. What they don't know though is that in the basement beneath the clinic, Cyrus Archer (Jack McCord), the very man who has employed Tyrone and Ray Ray to overlook the sale of purple neon in the streets, holds a Satanic ritual to bring back the queen of hell, a ritual consisting of all sorts of blood sacrifices and demonic apparitions and the like ... and somehow our quarelling heroes get sucked into this and find there's no way out of the clinic that has somehow magically turned into a true maze - a maze riddled with demons, monsters and other blood-thirsty creatures ...
I'll admit, the first few minutes of Dreaming Purple Neon are spent with setting up the story in a bit too much detail, but once the demonic action kicks in, it kicks in but good: Be prepared for all sorts of gory and grotesque, tied together in a very stringent and rather nightmarish story that manages to blend atmosphere and all-out gore in an effective way. And one can't denie, the gore effects are not only inventive but really well-executed and of the practical variety. Stylistically, the film is reminiscent of grindhouse and early shot-on-video fare without trying overly hard to just pay hommage or (worse) add post-modern irony to the mix. It's basically cool old school horror that might even stay with you for a while.