Hot Picks

- X 2019
E19 Virus


USA 2015
produced by
Joe Ciminera , Elizabeth Pickel (executive), Alan Pickel (executive) for Cim Studios
directed by Joe Ciminera
starring Joshua Pickel, Griffin Olshan, Pete Bonczek, Joe Ciminera, Alan Pickel, Robert Arensen, Alan Bendid, Natalie Swan, Larry Costa, John Formica, Nathaniel Hill, James Sferrazza, Bob Socci, Kearsten Alexis Bloomer, Leah Joi Young, Tiffany Browne-Tavarez, Jennifer Ju, Miriana Michaud, Zoey Michaud, Rob Fergus, Rica DeBlasi, Emily DeBlasi, Ina Shea, James Shea III, Salvatore Franciano, Cathy Bonczek, Lindsay Martin, Gene McParland, Damon Fields, Mauricio Hidalgo, Jean Alcantara, Alexa Ciminera, Gianna Ciminera, Lulu Bergman
written by Joe Ciminera, music by Kevin MacLeod, visual effects by Lou Cannizzo

review by
Mike Haberfelner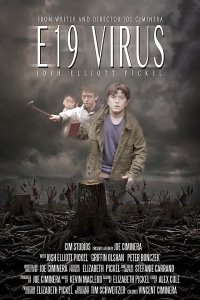 Doctor Kirschheimer (Joe Ciminera) and his team had a lofty goal: To rid the earth of all cancer - and their breakthrough it actually within reach ... but of course, wanting to succeed so desperately, they had unintentionally sold their souls to the devil, Mr Hughs (Robert Arensen), a businessman who's in the business of selling bacteriological weapons to whoever pays him most and just wants to get more money out of cancer research to finance just that. Thing is, now one of his bacteria, an extremely deadly "zombie"-virus has found its way back to the USA, and suddenly Kirschheimer and his very team, all of whom have tried to stay out and turn a blind eye to Hughs' dirty deals, find themselves forced to find an antidote for just that virus they never wanted to touch. Problem is, the virus has taken the USA pretty much over night, and nobody came really prepared, so even the scientists' lab soon comes under attack. Thing is, they develop an antidote, but it doesn't do them any good if it's not delivered to the "safehouse" in time - a journey one really can't make on foot with all the zombies lurking anymore. But the scientist have also developed a method to teleport people ... unfortunately only people in their early teens, which none of the scientists are. Enter Josh (Joshua Pickel), Griffin (Griffin Olshan) and Peter (Pete Bonczek), boys who have lost all their loved ones to the zombies but who have managed to stay alive so far because they had each other. Kirschheimer injects the serum into them, to make them immune, then starts teleporting them ... problem is, it's only a short range teleporter that needs time to recharge, so the friends are left in one hair-raising situation after the next, with nothing but their youth, virility and ingenuity (compared to zombies) to relie on. But they also more and more lose their "innocence" and fall into barbarian patterns humankind is supposed to have lost long ago - so whatever the outcome, their mission might be a blessing as well as a curse ...
Zombies plus children equals PG-kitsch, right?
Wrong of course, at least in the case of E19 Virus, which paints a pretty bleack picture of the future as such (and using today's headlines to do so) and uses its kid heroes to show the loss of innocence rather than the maintaining of the same, and some scenes of the film's young heroes beating zombies to pulps are really disgusting not for their explicitness (actually not much is shown) but for what's suggested - and that's exactly the film's strong point, it puts a spin on genre clichés, doesn't have a happy ending sown into its content, shows the slaying of zombies in a new light, is very cynical about its subject matter. This is of course carried by strong storytelling (even if some of the plot might be far-fetched within even genre boundaries), a direction that does not seek spectacle over content, and strong performances by all involved.
A zombie film, for sure, but also something very different that ought to be seen.
And if this review has gotten you at all interested, you might want to check out the whole movie here: http://www.rokuguide.com/channels/joe-ciminera-presents