Hot Picks

- X 2019
Emerald Run


USA 2020
produced by
Mariuccia Caruso, Anthony Caruso (executive), Marialisa Caruso (associate) for Magnificat Media Production
directed by Eric Etebari
starring David Chokachi, Michael Paré, Chris Mulkey, Yancy Butler, Sean Burgos, Adam Gifford, John Schneider, Marialisa Caruso, Steven Williams, Vernon Wells, Jonathan Jose Quintana, Angela Gots, Ben Milliken, Manuel Soro, Vanessa Hernandez, Stephen Cloud, Anthony Caruso, Lila Hood, Mariuccia Caruso, Jason Small, Brit Chokachi, Michael Caruso, Marco Caruso, Mitch Day, Giovanni Caruso
written by Anthony Caruso, Marialisa Caruso, music by Misha Segal

review by
Mike Haberfelner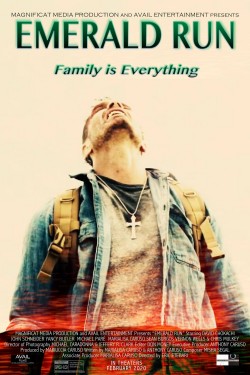 John (David Chokachi) is in a bit of a financial jam of late as he's between jobs and his daughter Lisa (Marialisa Caruso) needs treatment. So he accepts a job from his dad-in-law Alfio (Chris Mulkey) to retrieve some emeralds from Mexico in a not entirely legal way. But when John and his Mexican contact Emilio (Sean Burgos) get in touch with the suppliers of the gems (Adam Gifford, Jonathan Jose Quintana), they're quick to realize it's a set-up, and they're really lucky to escape with their lives and their briefcase full of money. Thing is, John's out in the desert and not made for desert life, and his opponents are still out there to get himm - and to get the money. However, Emilio proves to be a great asset in this situation, as he saves John's life repeatedly, and he turns out to be not by far the lowlife John has initially taken him for but a caring family man who just tries to make ends meet for him and his folks and who doesn't want more of the cake than's rightfully his, which is why he doesn't just rob John blind but drags him with himself. And the better the two men understand each other, the better they work together, until they come up with a plan to lure their opponents into a trap - a trap that works, but ultimately costs Emilio his life. And without his help, John soon finds himself lost in the desert, and near death he starts hallucinating, and some of the stuff he sees opens his eyes. He doesn't die yet but is picked up by a "samaritan" (Vernon Wells), who claims his intentions are noble but has a weird way of showing it ...
Yancy Butler plays John's wife, Michael Paré Alfio's right hand man with an ace up his sleeve.
This film really ticks all the boxes when it comes to B action entertainment: Plenty of chases, fights and shootouts, a basic but functional premise, an abundance of tension and violence in all the right places - and yet Emerald Run is actually more than that, as amidst all the action it's actually a character piece, allowing its lead a well-structured and interesting arc and plausible motives for his deeds, and giving him a strong supporting ensemble to play off of. And quite apart from that, the film also makes perfect use of its desert settings, not only in terms of pure aesthetics, but also letting the location directly influence the plot.
Well worth a look for sure!