Hot Picks

- X 2019
Extra Innings


USA 2018
produced by
Rabia Sultana, Jolene Mendes, Brian Drillinger, Albert Dabah (executive) for Ocean Parkway Productions
directed by Albert Dabah, Brian Drillinger
starring Geraldine Singer, Alex Walton, Mara Kassin, Robby Ramos, Natasha Coppola-Shalom, Simone Policano, Albert Dabah, Victoria Ric, Aidan Pierce Brennan, Ed Bergtold, Ryan DeLuca, Erika Longo, Peter Jensen, George Feaster, Avery Powers, Gavin Swartz, Juliette Gold, Page Clements, Brian Drillinger, Elise Finnerty, Juliet Lamond, Eric Gorman, Sam DeLeon, Aaron Cohen, John Amodeo, George Zouvelos, Dale Smith, Daryl Robinson
written by Albert Dabah, music by Peter Calo

review by
Mike Haberfelner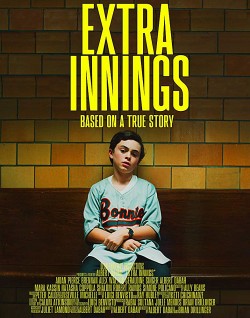 Brooklyn, the 1960s: Young David (Aidan Pierce Brennan) is a gifted baseball player, and all his life is centered around it - much to the dismay of his parents (Geraldine Singer, Albert Dabah) trapped in Jewish traditions, who figure he ought to take his faith more seriously. Only his sister Vivian (Mara Kassin) and his brother Morris (Robby Ramos) understand him, but she has long moved from Brooklyn to the West Coast to get out of her parents' sphere of influence, while he's gravely autistic and hardly able to talk to anyone. And when he starts to actually get on talking terms with their maid Maria (Victoria Ric), mother fires her out of maternal jealousy. Eventually, it's David's bar mitzvah - and he can't wait to get through the ceremony that has little meaning to him to get to the baseball finals that are on the same day, which means everything to him. But arriving home to change, he finds Morris, unresponsive after he overdosed on the drugs prescribed to him, and he dies later in hospital ...
It's several years later, David (now played by Alex Walton) is in his last year of high school and the best baseballer on the team - so much so that his coach (Ed Bergtold) tries to get him into a college in California to excel in college baseball. David's parents are dead set against it, they figure he should lead a more traditional life, have a more traditional career in "his" community - meaning the Jewish community of Brooklyn. Only Vivian supports him, even offers to let him stay at hers - and David's girlfriend Natalie (Simone Policano) is suprisingly all for it, even if it means they'd be separated for months on end. Once in California, Vivian supports David in any which way ... but she also proves less than stable herself, and after she's left by her girlfriend (Erika Longo) - she has only come out as lesbian very recently - things are headed for tragedy ...
Based on a true story, Extra Innings is a film that actually feels very real - and touching at the same time, precisely because it doesn't try to hard to hammer its story home but really lets the story unfold, warts and all, with a cast of characters that feel so real and relatable because they are all fallible and loveable at the same time. Also, despite all the drama that's happening (like the protagonist losing his two favourite siblings to suicide) this is not a strictly sad film but one that sheds a light on all sides of life, even the funny ones. In all, it basically makes one feel the lead character's rounded out story - and that's something not many films achieve.
And by the way, it's not necessary to know the first thing about baseball to enjoy the movie (says someone who doesn't know the first thing about baseball).