Hot Picks

- X 2019
Fare


USA 2016
produced by
Justin Moretto for Bad Theology
directed by Thomas Torrey
starring Thomas Torrey, Katherine Drew, J.R. Adduci, Pat Dortch, Sloan Stewart, Will Triplett, Robert Lee Simmons, Jeremy DeCarlos, Gengen He
written by Thomas Torrey, music by Forward Pilgrim, songs by John Mark McMillan

review by
Mike Haberfelner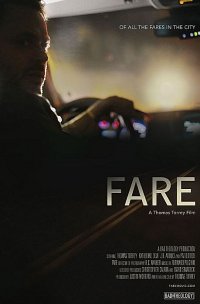 Eric's (Thomas Torrey) a cab driver who might not be exactly ecstatic about his job, but at least he's a people's person, so he gets some kick out of talking to his passengers - so he figures having been a realtor, the job will do until the market bounces back, right? Well, maybe wrong, because Eric's latest pick-up is of all people Patrick (J.R. Adduci), who happens to be the man his wife Audrey (Katherine Drew) has an affair with. Now after the initial, natural awkwardness, Eric decides to invite Aurdey into his car as well and play some mindgames with the two of them - which is mean as can be, mind you, but somehow understandable, and Eric might be a little off the hook, but he's certainly no psychopath ... but unfortunately, while trying to scaring the shit out of Audrey and Patrick, he has (unintentionally of course) run over a guy, and when Patrck gets out, trying to fix things ... well things get odd, and whatever you expect, just the opposite is true ...
Fare is a bit of a narrative wonder as it catches you cold quite a few times: Every time you seem to exactly know what kind of movie you're in (and be it an arthouse movie or a psychological thriller), it just veers of into a totally different direction - and thanks to a well-written script, that works too, even. Sure, the script remains a litle vague about some plotpoints - but frankly that's something that only comes up upon closer inspection, while watching the movie and accepting genre conventions. That's of course thanks not only to a perfectly structured script but also very solid performances and a directorial effort that gets the ost out of its very limited locations,
In all, totally worth a look!