Hot Picks

Fate


USA 2017
produced by
Dan Sheldon, Michael King, Timothy Q. Sheldon II (executive), Keith Nance (executive) for Something Like Sleep Entertainment
directed by Dan Sheldon
starring Daniel Bonjour, Anne Clare Lush, Marshal Hilton, Jerry Hoffman, Laura Shields, Leann Slaby, K.C. Morgan, William Caldwell, Ray Stoney, Ian Jerrell, Adrian Jules, Joanna Bartling, James Adams, Dan Sheldon, Chris Cordola, Paul Heikens, Jonathon Lafon
story by Michael King, screenplay by Dan Sheldon, music by Colin Cameron

review by
Mike Haberfelner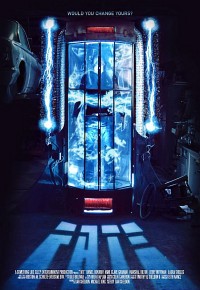 Connor (Daniel Bonjour) is an amazingly talented scientist, who together with his fatherly partner Jonas (Jerry Hoffman) develops a time machine. But that leads him to neglect his fiancée April (Anne Clare Lush). And when she catches him kissing his lab assistant Julia (Laura Shields) and doesn't know the full story - that she has forced herself onto him and he was just paralyzed for a few moments before pushing her away -, she's (understandably) mad ... so mad that she walks onto the street without looking and is run over by a car. This leaves Connor shattered, especially since it's on the same day that gouvernment agent Spencer (Marshal Hilton) shuts his lab down, deeming time travel too dangerous (with some justification even).
One year later, Connor and Jonas meet again to pick up work on their time machine in secret again - with the special purpose that Connor can travel back in time to save April. Thing is, the time machine can only keep Connor in the past for 60 minutes, so that's all the time he has to save her ... and whatever he does, he seems to fail, it seems April is doomed to die no matter what. But Connor isn't out of ideas yet of how to twist fate ...
Bringing the premise of Groundhog Day - without the humour - into a sci-fi plot, Fate isn't without its flaws, its concept of time travel and the repercussions that come with it doesn't hold up to closer inspection, its build-up takes a little too long, some of the characters are little more than caricatures and some situations are overly clichéed ... but it makes up for all of this with a really well-told yarn that effortlessly blends science fiction, thriller and romance while avoiding too much cheesiness along the way and is full of original twists and turns - and for that, it's well worth a watch!