Hot Picks

- X 2019
Finding Purpose


USA 2019
produced by
John Reign, Charles Wedge (executive) for PoleStar Productions
directed by John Reign
starring John Reign, Thomas Stoops, Aaron McCrumb, James Schultz, Dawna Lee Heising, Lisa Dapprich, Dave Cashier, April Love, Casey Burke, Ed McIntosh, Dave Campbell, Charles Wedge, Maurandis Berger, RJ Guy, Christopher Goff, Ross Carlo, April Evans, AJ Santillo, John Catheline, Curtis Megginson, Bianca Diavolo, John Kage, Scott Hune, Kyra Hill, Alyssa Baldinell, Lena Wallace, Joe Battyani, Alley Wedge, Loralie Carlo, MJ Myers, Sam Schultz, Mike Mitchell, John Swaney, Chris Henry
written by John Reign, music by Mark H. Ramonda

review by
Mike Haberfelner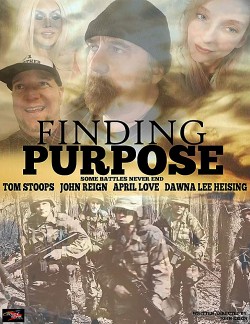 Back in the Bosnian war, John (John Reign) was "somebody", a sergeant who got his men through many a tough spot, somebody that was hated by some but looked up to by others. That was 25 years ago though, and now John's out of a job and doomed to live in a trailer with both water and power turned off. He looks after his mentally challenged brother Rodney (Thomas Stoops), whom he loves dearly and who he always puts first - but given his rather precarious situation, it's hardly surprising that social services, with the police in tow, show up to take away Rodney to put him in state care, and John's heart is pretty much broken when he learns that he's even barred for the time being from seeing Rodney. However, two of John's army buddies (Aaron McCrumb, James Schultz) promise to help get Rodney out of the facility he's placed in, and provide him and John with an escape car and enough money to last them a while.
Eventually, they stop at a strip club for a beer, where John's pleasantly surprised to find out that it's run by an old friend of his, Skye (Dawna Lee Heising). Later though, John walks into an argument between Skye's business partner Ivan (Dave Cashier) and dancer Anna (April Love), and gentleman that he is, he saves Anna when Ivan pulls a gun, then takes her with him and Rodney to wherever. It's only later that he finds out Ivan isn't just a street thug who got into a scuffle with one of the girls but a crime kingpin who has his hands in all kinds of dirty dealings, and now that he has helped Anna, he might be on Ivan's hitlist. Worse than that, he has taken Skye hostage to get back Anna ...
A very interesting film that's part character study and part crime movie that shows you can tell an engaging story without a cookiecutter hero in the lead, instead leaving the action to a down-on-his-luck fiftysomething, and that touches social issues along the way without pushing them into the viewer's face. Of course, a solid screenplay is essential in bringing this across, but this movie's also brought to life by its strong characters and competent ensemble cast, and a direction that chooses understatement over making things glaringly obvious.
Well worth a watch.