Hot Picks

- X 2019
The First Film


UK 2015
produced by
David Wilkinson, Doug Abbott (executive), Robert Worcester (executive) for Guerilla Films
directed by David Wilkinson
starring Bernard Atha, Tom Courtenay, Nigel Cross, Quentin Dowse, Tony Earnshaw, Joe Eszterhas, Paul Goodman, Louise A. Handley, Michael Harvey, Ronald Harwood, Stephen Herbert, Daniel Martin, Mick McCann, Beatrice Neumann, Tony North, Jacques Pfend, Tony Pierce-Roberts, Gavin Poolman, Mark Rance, Katharine Round, Liz Rymer, Irfan Shah, Laurie Snyder, Gordon Trewinnard, Carol S Ward, Adrian Wootton, and voice-overs by Stephane Cornicard, Sarah Lancashire, Ben Eagle
written by David Wilkinson, Irfan Shah, music by Christopher Barnett


documentary

review by
Mike Haberfelner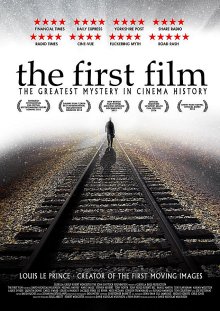 Outside of Leeds, Yorkshire, England, it is a little known fact that the first motion picture camera might have been invented in, well, Leeds (and by one Louis Aimé Augustin Le Prince, an inventor from France who had found business and love in the North of England and thus stayed), and the first movies might have been shot in Leeds, in 1888 - thus well before Thomas Alva Edison patented the kinematograph in 1891. So why isn't Le Prince held in higher regards for his invention? Because he disappeared while on a train from Dijon to Paris in 1890, and nobody knows what might have become of him, not even in the slightest ...
What makes this documentary so interesting though is that, despite its director's/presenter's research going on for over 30 years, it's not just a dull celebration of the man's genius but portrays the time Le Prince was living in, the inventions he made that led to his movie camera (including a 16 lense photo camera shooting consecutive shots onto a glass plate), and the competition from back in the day that was all onto the same thing - which at times led even the film's maker David Wilkinson to slight despair when he learns that there might be film footage dated even earlier than Le Prince's - fortunately all false alarms, so what we're left with is Le Prince having indeed shot the oldest (verified) film footage, thus indeed having made the first film, and a great big mystery about what has happened to him.
What makes this documentary really outstanding though is that director/presenter David Wilkinson, who has been in the business for more than 4 decades now, really loves and understands film, so this documentary is properly built up for even those who are not into film history, and he's so fascinated by the film's subject matter that he doesn't only have an amazing array of expert at hand, he also risks being proven wrong, just to make a worthy contribution to film history. And this fascination is totally contagious, so if you haven't been into (ancient) film history yet, you probably will be after watching this!