Hot Picks

The Forlorned


USA 2017
produced by
Ryan Reed, Robert Milo Andrus, Dale L. McGarvey (executive), Angela Townsend (executive) for Good Outlaw Studios
directed by Andrew Wiest
starring Colton Christensen, Elizabeth Mouton, Cory Dangerfield, Robert Bear, Larry Laverty, Shawn Nottingham, Robert Milo Andrus, Luke Dowler, Jamie Cody-Ferguson, Jeri Miller, Elaine Reed, James Teague
screenplay by Ryan Reed, Andrew Wiest, Angela Townsend, based on the novel by Angela Townsend, music by Luke Dowler, special effects makeup by Jeri Miller, Robert Milo Andrus

review by
Mike Haberfelner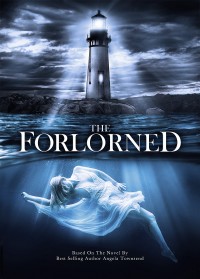 Tom (Colton Christensen) just wants to get away from it all - which is why he has taken a job as caretaker of an out-of-operation off-the-coast lighthouse, basically for all the quiet he can ask for. The place is (of course) a bit creepy, and the stories of the local (but mainland) pubowner (Cory Dangerfield) about the mysterious (and mostly lethal) tales about the previous lighthouse keepers and the legends surrounding the lighthouse don't really do much to calm Tom. And more and more, Tom seems to start seeing things, things that often have to do with a carnivourous hog attacking and killing people - which disquiet him enough to lay out bear traps on the premises - but of course whatever it is that haunts the place isn't to be stopped by bear traps ... but sees to it that Tom steps into one. Enter Amy (Elizabeth Mouton), daughter of the last lighthouse keeper and apparently the only person who ever lived on the island and left there alive. She wants to find closure since her father (Luke Dowler) died here, and she and Tom start to investigate and uncover the story of pirate captain Weston (Robert Milo Andrus), who apparently stranded on the island with his crew centuries ago, and whom greed actually drove to murder and cannibalism. Problem is, Weston (or rather his spirit) might still be around, and he's in a homicidal mood ...
Not exactly the reinvention of the wheel, The Forlorned is nevertheless a pretty good spooker, a ghost story high on tension and atmosphere with a good build-up, a mystery that doesn't give itself away in the first five minutesbut keeps one guessing till the finale, jump scares in all the right places, and gory bits whenever needed. And nice locations and a competent cast don't hurt one bit either of course!
Basically, a very enjoyable exercise in genre cinema indeed.