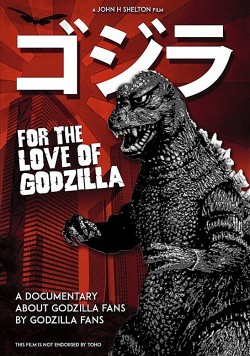 Indie filmmaker, blogger and vlogger John H. Shelton has been a lifelong Godzilla fan - and expert on top of that. So it shouldn't come as a huge surprise that he'd eventually make a documentary about Godzilla fandom. The way he has gone about this is pretty nice though as it lets every Godzilla fan (like myself) feel as part of a community, as he lets Godzilla fans from around the world, most of whom are also part of the indie film community in one way or another, talk about their access to the Big G, lets them talk about how they first came in touch with/fell in love with the character (and kaiju cinema as such), lets them show off their Godzilla collections (be it tapes, blu-rays or toys) and their expertise, and gets their opinions about Godzilla - uncommented and thus completely honest. And along the way, the film touches pretty much all Godzilla incarnations from the original Gojira from 1954 via the goofy monster mashes of the 1970s, the Hanna-Barbera cartoons, 1984's Return of Godzilla up to Shin Gojira, not even forgetting the awful Roland Emmerich Godzilla-adaptation from 1998. And Shelton did not forget to dedicate the movie to the sadly deceased Haruo Nakajima, first man who ever played Godzilla, either.
Well, what can I say, as a fan, this movie just warms my heart as it has been done with quite so much love, and it manages to perfectly off-set talking heads with shots of their merchandise, video covers and the like. The one thing that's kind of missing here is snippets from the actual movies, but that's of course due to rights issues and can't be expected from a no-budget documentary - and it goes to the credit of John H. Shelton that he manages to perfectly make up for that.
True, people who are not kaiju-fans will have some difficulties understanding this, but it's a must-see for every self-respecting Godzilla-fan!